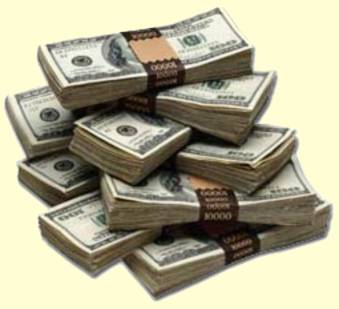 Major kudos to USA Today. An American newspaper has finally told the truth about the real economic crisis facing our country, which is the growth of entitlements, mainly with Medicare and that Ponzi scheme hidden income tax ripoff fake trust fund brought to you by the Democratic Party, Social Security (SS). Read the USA today article here.
As a side note about SS, Barack Obama took to using a little "politics of fear" (if I may borrow an Obaman rhetorical device) to falsely scare senior citizens into thinking John McCain was going to take away their SS. (link) Real classsy move from Obama the "new kind of post-partisan politician" (guffaw). Nobody has EVER suggested taking SS away from seniors. Nobody. Certainly not John McCain. To paraphrase some more Obama-style patter - Barack Obama's appalling attacks are the type of divisive, dishonest, and hypocritical partisan rhetoric that has characterized politics for far too long. It's the politics of the past, and the American people are tired of it. Americans want real change they can believe in, not more fearmongering, not more of the same old down and dirty intransigent politics so typical of the Washington D.C. inside power players - There. How did you like my Obama impersonation ? You know, it's really easy to talk like that. I think I'll form an exploratory committee to make a run for the Senate, Libertarian Party, I guess. The GOP has ticked me off, so they're out. They had their chance, and the Democrats are just flat out wrong about almost everything, so they'd be far worse. Thinking the Republican mess will be fixed by the Democrats is like thinking you can set your hair on fire and then put it out with gasoline.
Which leads me back to my intended subject. The entitlement liability, which constitutes the REAL federal deficit. It's over $500,000 PER HOUSEHOLD right now. Forget the credit crisis. Forget the mortgage crisis. Forget the Iraq war. This is the REAL crisis. I don't know about you, but $500,000 sounds like a chunk of change to me. Before long, we could be talking about real money. And every year we don't get a handle on this problem, the problem grows by a couple TRILLION dollars. If you want the "politics of fear", well, here's something to fear:
Taxpayers are on the hook for a record $57.3 trillion in federal liabilities to cover the lifetime benefits of everyone eligible for Medicare, Social Security and other government programs, a USA TODAY analysis found. That's nearly $500,000 per household.

When obligations of state and local governments are added, the total rises to $61.7 trillion, or $531,472 per household. That is more than four times what Americans owe in personal debt such as mortgages.

The $2.5 trillion in federal liabilities dwarfs the $162 billion the government officially announced as last year's deficit, down from $248 billion a year earlier.

"We're running deficits in the trillions of dollars, not the hundreds of billions of dollars we're being told," says Sheila Weinberg, chief executive of the Institute for Truth in Accounting of Chicago.
The Medicare liability alone increased by $1.2 trillion in 2007, but it doesn't appear in our deficit numbers anywhere. We still have to pay for it. The total Medicare UNFUNDED liability is $30.4 trillion.
Now let's talk about some politics we really should fear (if you aren't scared already). Suppose Barack Obama becomes president and the Democrats seize a larger Congressional majority in november. Both are likely possibilities. That would give the Dems almost unfettered power. The Dems would immediately start implementing BRAND NEW HUGE ENTITLEMENT PROGRAMS to add to the enormous entitlement debt tsunami headed our way already. Massive increases in taxes would have to follow, which is another really bad idea when our economy is already slowing and shaky. Add it all together, and the Democrats will create an environment for the PERFECT ECONOMIC STORM (all to help us, of course). Imagine what each American household will be on the hook for then.
You want the truth ? There's the truth. Our politicians can't handle the truth, which is why they hide behind distortions and outright lies. I'm willing to bet you haven't heard any of these numbers being talked about during the presidential campaign (which has been going on for over a year), and I guaran-darn-tee you haven't heard a Democrat mention them probably ever in your lifetime.
I BEG ALL YOU VOTERS TO PAY VERY CLOSE ATTENTION TO THIS PRESIDENTIAL ELECTION. IT IS CRITICALLY IMPORTANT FOR THE REASONS I JUST MENTIONED. THE OUTCOME COULD SWAMP THE FINANCIAL VIABILITY OF YOUR CHILDREN FOR TWO DECADES OR MORE.
So liberals, since you are actually in favor of all these entitlements that will bankrupt the country, I beg you to exhibit a little of that alleged liberal compassion and send at least $531,000 to me, Da King. I'm one of those little guys you love to "help". Thank you very much. I knew I could count on you. God bless, er, I mean, dos vedanya.