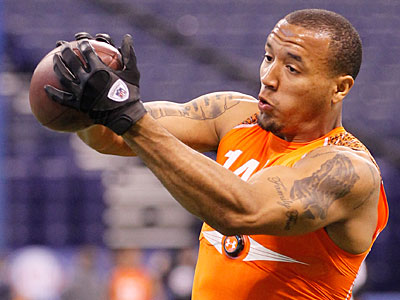 Browns General Manager Tom Heckert traded down last year during the NFL Draft, and it's no secret that he could do it again in two weeks.
Two of the Browns' league-high 13 picks in this year's draft are in the first round (Nos. 4 and 22), so there are countless scenarios that could unfold April 26-28.
The St. Louis Rams and the Philadelphia Eagles both have two second-round picks, and the Plain Dealer identified them as potential trade partners of the Browns. Some are skeptical the Rams, who have the sixth pick, would trade up, and others are reporting the chances that the Eagles, who have the 15th selection, would strike a deal for the fourth choice are slim to none.
It's virtually impossible to know for sure what's a smokescreen and what's not.
Regardless, the possibility that the Browns might attempt to trade down is real. Perhaps the key to it all lies in this question: Whom would they target in a trade-down scenario?
Pro Football Weekly analyst Nolan Nawrocki believes Notre Dame wide receiver Michael Floyd might be the answer.
Picking Floyd at No. 4 would probably be a reach, but he's not expected to be available at No. 22. In other words, a trade down could give the Browns more ammunition and still allow them to land Floyd.
Such a scenario could be quite a coup for the Browns, especially if they share Nawrocki's views on Floyd. In Nawrocki's mind, Floyd is the top receiver in the draft, not Oklahoma State's Justin Blackmon.
"I've even had GMs say they've graded [Blackmon] in the second round," Nawrocki said Wednesday during a conference call. "They just clearly do not see the playmaking ability and the speed having watched every [bit] of tape on him the last two years. He's gonna be an interesting guy to watch, both where he goes on draft day and the kind of pro he becomes because he's not especially physical and he's not a blazer. So I think he's gonna work the underneath game in the league. That's gonna be his value, and it wouldn't shock me if he slid a little further down the board. Could the Browns [take Blackmon]? Yes, but it wouldn't surprise me if they were more seriously considering Michael Floyd at this stage.
"If you just look on paper, [Floyd is] bigger, he's stronger, he's faster, he's more explosive and I think the tape is better [than Blackmon's tape]. He's made more big plays. They're comparable when you look at some of the concerns off the field, but I think where they differentiate is that Blackmon has raised more concerns recently about his background, his off-the-field habits, and Floyd has gone the other way. He's shown more maturity, even though he had three alcohol-related incidents early in his career. He's shown that he could stay focused as a senior, and he's interviewed well. He's definitely not a guy that's not gonna back down from the challenge. He's got an edge to him, and it's something that teams like.
"So I think [Floyd has] gained more momentum in this process. If you really look at the tape, you don't see him pulling away and separating [from defenders] down the field. I don't think either of them are really great in that area, but he did run as low as a 4.4 in the 40 at the combine and had a better showing at his pro day and the combine. So he's gained more momentum late in the process, and there's a chance he could even overtake Blackmon."
Nawrocki also said he doesn't think Floyd or Blackmon would fall out of the top 10. If that's the case, the Browns wouldn't be able to trade down too far and still be sure of getting Floyd.
Then again, they could always trade down and then trade back up. After all, Heckert did that last year.
Heckert traded the sixth overall pick in the 2011 draft to the Atlanta Falcons in exchange for picks in the first (No. 27), second (No. 59) and fourth (No. 124) rounds last year, plus selections in the first (No. 22) and fourth (No. 118) rounds this year. Then Heckert traded the No. 27 pick and a third-round choice (No. 70) to the Kansas City Chiefs, so he could move up and take defensive tackle Phil Taylor at No. 21.
It's risky and complicated.
But the point is Heckert has a history of maneuvering to get the prospects he targets, so no one should be surprised if, one way or another, he does it again in two weeks.