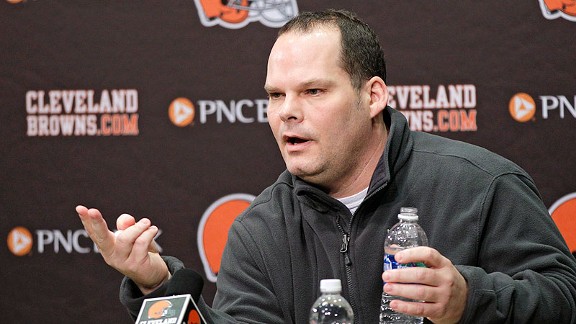 The Denver Broncos have hired former Browns General Manager Tom Heckert, according to reports.
Heckert will become the Broncos' new director of pro personnel, Albert Breer of NFL Network reported. The Broncos recently declined to renew the contract of Keith Kidd, who held the same title with the organization.
Browns owner Jimmy Haslam and CEO Joe Banner fired Heckert and coach Pat Shurmur on Dec. 31, a day after the team ended the 2012 season with a record of 5-11. The new regime hired Mike Lombardi to replace Heckert as its GM and coach Rob Chudzinski to succeed Shurmur, who's now the offensive coordinator of the Philadelphia Eagles.
Hired by former Browns President Mike Holmgren, Heckert joined the franchise in January 2010 and became popular among the majority of fans because of the three drafts he orchestrated during his tenure in Cleveland. Heckert, who has Youngstown roots, landed cornerback Joe Haden, defensive tackle Phil Taylor, running back Trent Richardson and quarterback Brandon Weeden in the first round and running back Montario Hardesty, defensive end/linebacker Jabaal Sheard, wide receivers Greg Little and Josh Gordon and offensive tackle Mitchell Schwartz with second-round picks.
Heckert, whose father is a former Browns scout, spent nine seasons in the player personnel department of the Philadelphia Eagles before coming to Cleveland. He worked for the Miami Dolphins for 10 seasons before joining the Eagles.