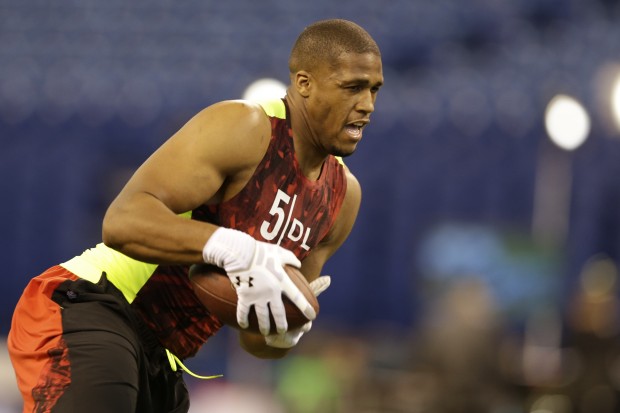 Less than a week after the Browns drafted defensive end Armonty Bryant, his history of off-the-field trouble continued to grow.
Bryant was arrested Friday morning in Ada, Okla., and charged with driving under the influence, according to a police report obtained today by the Beacon Journal. He faces a misdemeanor DUI charge and is scheduled to be arraigned at 2:30 p.m. Tuesday in Pontotoc County District Court.
The Ada News first reported the arrest today.
"We are aware of the incident and are now in the process of collecting more information," Browns vice president of media relations Neal Gulkis said in a statement after the Beacon Journal asked for a comment. "We will not have any further comment."
After pulling Bryant over, officer Kylor Pool administered a standard field sobriety test but had problems getting Bryant to comply with a preliminary breath test by properly blowing into a Breathalyzer, according to the police report. In the report, Pool wrote that he attempted to administer the test more than 10 times, and it eventually yielded a result of 0.098. Oklahoma's legal limit for intoxication is 0.08.
Pool then arrested Bryant and tried to get him to submit to the state's breath test. Bryant, 22, repeatedly refused to adequately blow into an Intoxilyzer, though two deficient samples read 0.10 and 0.09, according to the report. Bryant also declined to submit to the state's blood test.
"During my interactions with Armonty I observed him to have slurred speech, to have a strong odor associated with an alcoholic beverage coming from about his person and to be unbalanced on his feet," Pool wrote in the report.
According to the report, Pool pulled Bryant over at 3:46 a.m. Friday because Bryant made a left turn after failing to signal until his vehicle had come to a stop at a stop sign near East Central University's Norris Field, where he became a Division II college football standout. Bryant initially told Pool he was driving a friend home from a party and had not been drinking, but he later "stated that he had a few drinks earlier in the evening," according to the report.
A passenger in the vehicle with Bryant, Ashley Robison, was arrested and charged with public intoxication.
Bryant posted $500 bail and was released from the Pontotoc County Justice Center at 10:30 a.m. Friday.
On April 27, the Browns drafted Bryant in the seventh round (No. 217 overall) despite his baggage. Bryant was suspended for three games last season after being arrested in October for selling $20 of marijuana twice to an undercover officer, both times in an ECU parking lot, according to the News. Because the transactions came within 2,000 feet of a school, he was charged with a felony.
Moments after he was drafted, the 6-foot-4, 263-pound Bryant said he learned from his marijuana arrest and vowed not to disappoint the Browns for showing faith in him.
'"Good people make mistakes' is something that I've always been told by my [college] coach," Bryant said April 27 during a conference call with the Cleveland media. "I feel like it was just a stupid move on my part. I should have been more mature about the situation and be more focused on football, which is something I really want to do with my life.
"Now that I've gotten that second chance, I feel like I won't let anyone down. I won't let myself, the people around me or the Cleveland Browns down. I appreciate them for taking this chance on me."
Browns coach Rob Chudzinski said the organization was confident Bryant had matured after sending defensive line coach Joe Cullen to work him out before the draft.
"Looking into his background with coach Cullen out there, as well as our scouting staff, we felt like [Bryant] is past the mistakes he has made and ready to move on," Chudzinski said April 27 during a news conference.
Bryant's agent did not immediately respond to a message from the Beacon Journal seeking comment.
In three seasons at East Central, Bryant set a school record with 26.5 sacks to go along with nine blocked kicks.
The Browns will hold their rookie minicamp Friday through Sunday. Rookies are scheduled to report to the team's headquarters Thursday.