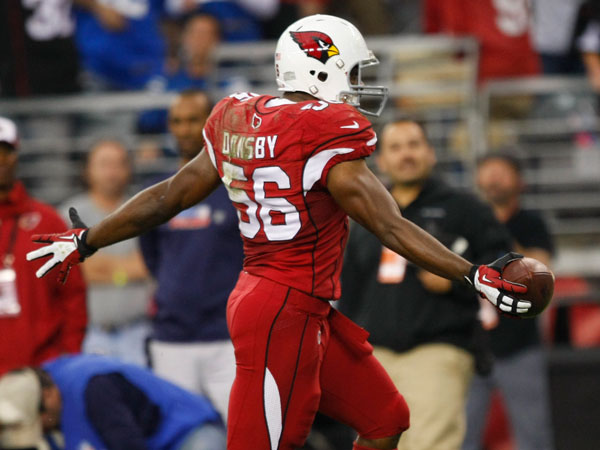 With NFL free agency set to begin at 4 p.m. today, rumors and reports about the Browns have been furiously swirling.
The Browns have $49 million in salary-cap space, a new front office led by General Manager Ray Farmer, a new coaching staff led by Mike Pettine and plenty of needs to address before the draft, which will run May 8-10.
All of those factors suggest the Browns will be aggressive in free agency. NFL Network knows this and has deployed a reporter to the team's headquarters in Berea to ensure a robust flow of information about the Browns.
Here is a roundup of the rumblings that have recently surfaced about the Browns:
1. Arizona Cardinals inside linebacker Karlos Dansby and San Francisco 49ers strong safety Donte Whitner could become the first players to sign with the Browns.
The Browns have emerged as the favorite to sign Dansby, NFL Network's Ian Rapoport reported today. The Tennessee Titans and Cardinals feel as if they're out of the running for Dansby's services, according to the report.
The Arizona Republic's Kent Somers reported Dansby is in line to receive a four-year $24 million deal from the Browns, including $10 million in 2014 and $14 million guaranteed.
Whitner, a Cleveland native and Ohio State product, has been strongly linked to the Browns since Monday. 92.3 The Fan's Dustin Fox and Whitner were teammates at Ohio State. On Monday, Fox tweeted, "Based on a source close to Donte Whitner, he is likely headed to the Browns when the signing period begins."
Dansby would replace defensive captain D'Qwell Jackson, whom the Browns cut last week, in the starting lineup. The 6-foot-4, 250-pound Dansby, 32, had 122 tackles, including 6½ sacks, four interceptions, 19 passes defensed and a forced fumble last season with the Cardinals. ProFootballFocus.com ranked Dansby third in pass coverage among inside linebackers last season.
Whitner would replace T.J. Ward, who'll become an unrestricted free agent at 4 p.m. today. The 5-10, 208-pound Whitner, 28, compiled 78 tackles, 12 passes defensed, two interceptions and two forced fumbles with the 49ers last season.
Whitner has made the Pro Bowl in each of the past two seasons. Ward made his first Pro Bowl this past season.
2. The Browns are showing significant interested in trading for Tampa Bay Buccaneers cornerback Darrelle Revis, Rapoport reported. Revis would need to restructure his contract to make the deal work. Last year, he signed a six-year, $96 million contract and is scheduled to make $13 million next season.
The Buccaneers are expected to cut Revis by Wednesday, when he's due a $1.5 million roster bonus, if they can't trade him or restructure his deal.
The Oakland Raiders are also interested in trading for Revis, the San Francisco Chronicle reported.
Pettine spent four seasons as the New York Jets' defensive coordinator when Revis was their star cornerback. Revis, 28, is a five-time Pro Bowler.
If the Browns acquire Revis, they would have a ton of money invested in the cornerback position. Browns Pro Bowler Joe Haden is in line for a contract extension. His deal is scheduled to expire after next season.
3. NFL Network reported the Browns are interested in slot receivers Emmanuel Sanders (Pittsburgh Steelers), Julian Edelman (New England Patriots), Andrew Hawkins (Cincinnati Bengals) and Andre Roberts (Cardinals).
The Patriots were unable to reach a deal an agreement with Edelman, a Kent State product, so he'll test the free-agent market, ESPN reported. The Washington Post later reported that the Washington Redskins reached a deal with Roberts. Hawkins is a restricted free agent.
A rumor circulated online about Kansas City Chiefs slot receiver Dexter McCluster joining the Browns via free agency, but a league source told the Beacon Journal "he is not going to Cleveland."
4. NFL Network reported the Browns were getting close to reaching deals with Buffalo Bills linebacker Arthur Moats and Whitner. However, a league source told the Beacon Journal that "nothing is imminent" with Moats, who played for Pettine last year when he was the defensive coordinator of the Bills.
5. NFL.com also reported that the Browns are looking at Houston Texans running back Ben Tate. Chiefs defensive end Tyson Jackson has received interest from a few teams, including the Browns, NFL Network reported. Others in the mix are the Chiefs, Miami Dolphins and Atlanta Falcons.