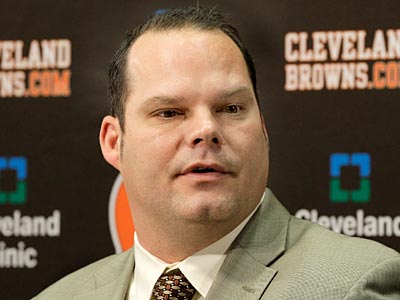 With owner Jimmy Haslam and CEO Joe Banner in charge of the Browns, the future of General Manager Tom Heckert and other key members of the organization is uncertain.
Heckert met with reporters today to discuss his situation. Here are some of the highlights from the chat:
*Heckert said he believes he'll learn his fate right after the season, but he insisted he doesn't know what decision Haslam and Banner will make.
"I don't think I'd be surprised [if I'm back next year], but I really don't have an idea," Heckert said. … "If things don't work out, I'm pretty confident I'll get a shot somewhere else."
*Heckert said having final say on draft picks and trades is very important to him, and it's the reason he left the Philadelphia Eagles and joined the Browns. Heckert said he doesn't know if he would consider it a deal breaker if Haslam and Banner, who worked with Heckert in Philadelphia, wanted him to stay but relinquish that authority.
"I don't know," Heckert said. "That's something I'd have to discuss with the powers that be."
*Heckert said he thinks the widespread speculation that NFL Network analyst Michael Lombardi will replace him is "really kind of irrelevant." He has not asked Haslam or Banner about it.
"I'm going to find out in two weeks here anyway," Heckert said.
*Heckert said neither he nor his agent, Bob LaMonte, have put out feelers to other teams.
"All that stuff will take place after the season," Heckert said.
*Heckert said he wants coach Pat Shurmur to stay. He said he didn't even want to entertain the thought of him staying and Shurmur leaving.
*Heckert said he wants to stay with the Browns. His father was a scout for the Browns in the 1980s, he has a lot of relatives who live in Northeast Ohio and staying in Cleveland is important to him.
"I really enjoy the city," Heckert said. "I really enjoy this team, so that would be the ideal situation."
*Heckert said the roster is getting close to where he wants it to be.
"There's no question we've gotten better and the depth's gotten much better," Heckert said. … "You can never say, 'We're there.' I think it's getting close to where we want to be."
*Heckert said he's comfortable saying rookie Brandon Weeden should be considered the franchise's quarterback of the future.
"I'm comfortable [saying that]," Heckert said. "I like Brandon. I think he's going to be good. I think he's going to get better. I think he has gotten better throughout the year. He's got everything you want."