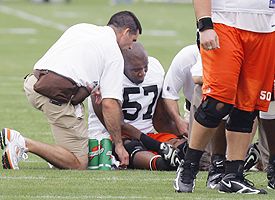 Former offensive lineman LeCharles Bentley settled his lawsuit against the Browns over the career-ending staph infection he said he contracted at the team's training facility, FOXSportsOhio.com first reported.
The Browns confirmed the settlement has been reached.
Details of the settlement worked out by Bentley and Randy Lerner, who agreed to sell the Browns to Jimmy Haslam III on Aug. 2, are confidential. As part of the agreement, the Browns will fund six scholarships for underprivileged children at Bentley's alma mater, St. Ignatius High School in Cleveland, for 20 years. Those were the only terms that were announced.
"These last six years have been the most trying time of my life, but now that it is over I can honestly say I am a better man for having gone through it," Bentley said in a statement. "Randy Lerner and I -- two men born and raised in Cleveland -- were able to sit down face to face back in June and come to an agreement that was fair."
Not long after signing a six-year, $36 million contract with the Browns, Bentley tore the patellar tendon in his left knee during the first day of training camp in 2006. Bentley's lawsuit charged he nearly died from the subsequent staph infection.
In 2010, Bentley filed suit in Cuyahoga County Court of Common Pleas. It asked for more than $25,000 for pain and suffering, plus punitive damages.