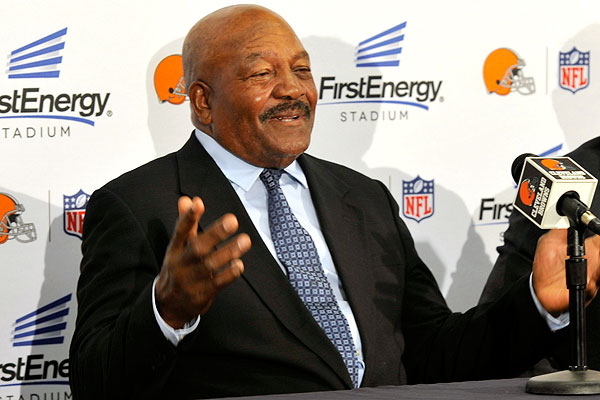 Browns special adviser and legendary running back Jim Brown has canceled an NFL Rookie Symposium speaking engagement scheduled for Wednesday at the Pro Football Hall of Fame because of an illness, the league announced this afternoon in a media advisory.
The advisory did not specify the nature of Brown's illness, but it's not believed to be serious. Brown, 77, had been traveling a lot recently, and the frequent trips caused him to become fatigued, he said in a statement.
"I am very sorry that I am unable to attend tomorrow's Hall of Fame session with the rookie class," Brown said in the statement. "Our young NFL players are very dear to me, but due to my extensive travels of late, I am extremely tired and need to rest. I look forward to returning to Ohio this summer for all of the festivities as we celebrate 50 years of the Pro Football Hall of Fame."
Brown was scheduled to conduct a history lesson for the AFC rookies Wednesday when they visit the Hall of Fame in Canton. Fellow Hall of Famer Mike Haynes is scheduled to replace Brown.
The NFC rookies are set to visit the Hall of Fame Saturday with Richard Dent, another Hall of Famer, providing a history lesson.