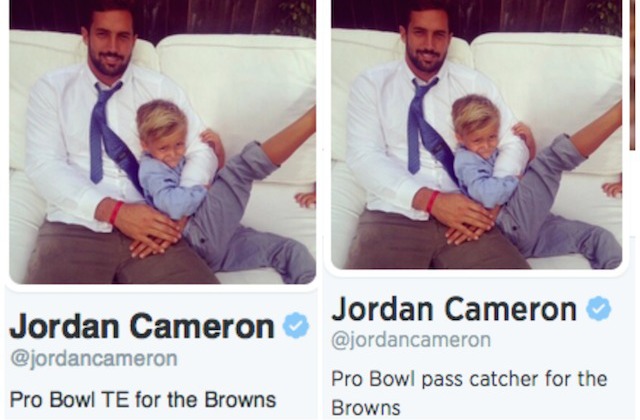 Photo courtesy of CBSSports.com
Browns Pro Bowler Jordan Cameron will no longer be pigeonholed based on his Twitter bio because he made a notable change to it today.
The short bio reads, "Pro Bowl pass catcher for the Browns." It used to read, "Pro Bowl TE for the Browns."
Cameron's edit is a reaction to arbitrator Stephen Burbank's ruling today that New Orleans Saints Pro Bowler Jimmy Graham is a tight end and not a wide receiver for franchise-tag purposes. The cost to franchise a tight end is $7 million compared to $12.3 million for a wide receiver, so there's a difference of $5.3 million between the two positions.
Burbank pointed directly to Twitter as one of the reasons for his decision.
"Mr. Graham refers to himself as a tight end in social media that he controls (Twitter and Facebook), and his agents do so as well," Burbank wrote in the ruling.
It's worth noting that Cameron is scheduled to enter the final season of his rookie contract in the fall. And barring a contract extension, he'll be a prime candidate for a franchise tag next year.
ESPN.com sports business reporter Darren Rovell noticed the change in Cameron's bio and drew attention to it on Twitter. Cameron later acknowledged it with a tweet of his own.
So now Cameron, who had a career-high 80 catches for 917 yards and seven touchdowns last season, seems to be a step ahead on the social-media front. Burbank, though, found many other reasons to deem Graham a tight end. He also explained that Graham lined up within 4 yards of the offensive tackle for the majority of the plays, the Saints drafted him as a tight end and he meets and practices with the tight ends when the team divides into position groups.
Still, no one can fault Cameron for trying.