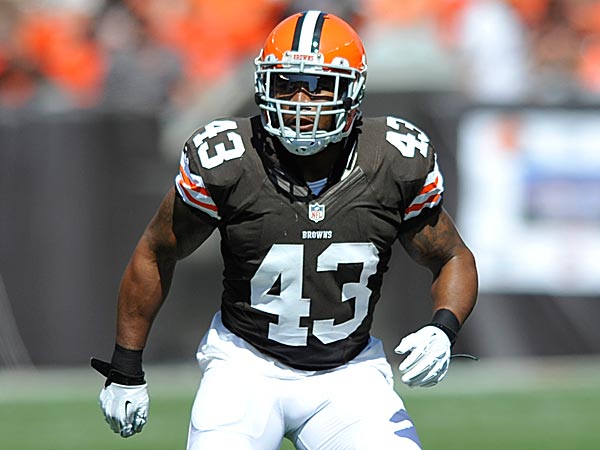 Browns Pro Bowl strong safety T.J. Ward is scheduled to hit the open market as an unrestricted free agent at 4 p.m. March 11.
The NFL's deadline for teams to use franchise or transition tags passed at 4 p.m. Monday without Ward, 27, receiving one. It would've cost the Browns $8.4 million to franchise Ward or $7.2 million to make him a transition player.
Instead, the Browns placed a transition tag on Pro Bowl center Alex Mack, 28. The cost to transition Mack is $10.039 million, meaning he'll become the highest paid center in the NFL if he plays under the tag.
The Browns have $56.9 million in salary-cap space, according to OverTheCap.com.
Josh Arnold, Ward's agent, released the following statement today to the Beacon Journal regarding his client's contract situation:
"After receiving numerous requests from local and national media outlets, fans, and several others connected to the Cleveland community, we felt it necessary to provide a statement with respect to T.J.'s current contract situation. Detailed contract discussions with multiple front office executives of the Browns began last month at the NFL Scouting Combine in Indianapolis. Since then several conversations have occurred in an attempt to secure a new deal for T.J., but we've yet to agree on terms that work for both sides.
"T.J. has proven himself to be not only an elite NFL safety, but an elite and top NFL player league wide which is evidenced by him earning both All Pro and Pro Bowl recognition this past season. With the passing of the franchise/transition tag deadline, we remain open to further discussions with the Browns in working towards a long-term deal and look forward to that possibility. However, if things don't work out in Cleveland, we likewise look forward to the opportunity that can coincide with becoming an unrestricted free agent. Several factors will be considered before making a final decision that will provide best for T.J. and his family."