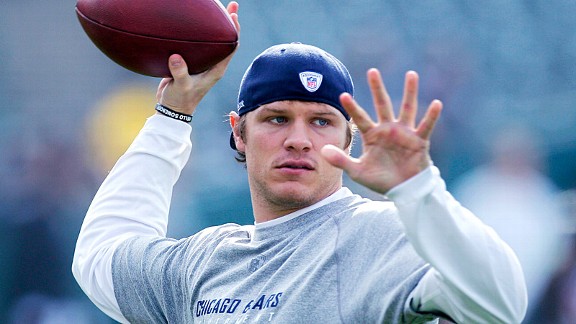 The Browns have signed veteran free-agent quarterback Caleb Hanie, a league source confirmed this morning for the Beacon Journal.The Browns later announced the move, which was first reported by ESPN Chicago.
But the team's starting quarterback for Sunday when the Browns (4-8) will visit the New England Patriots (9-3) has yet to be determined, a team spokesman said this morning.
With quarterbacks Jason Campbell and Brandon Weeden dealing with concussions, coach Rob Chudzinski during a news conference Monday did not rule out the possibility of signing a quarterback like Hanie off the street and starting him against the Patriots. Chudzinski also said backup Alex Tanney, who's best known for the viral trick-shot YouTube video he was featured in two years ago, could receive his first NFL start.
Campbell or Weeden could also start if they're medically cleared in time, but as of today, both of them remain in the NFL's concussion protocol, a team spokesman said. They would need to pass a series of tests and receive clearance from an independent physician before returning to practice.
Chudzinski said he would need to know which quarterbacks are available by the time practice resumes Wednesday.
The Browns worked out Hanie last week before opting instead to sign Tanney off the Dallas Cowboys' practice squad Nov. 26. To make room for Hanie on the 53-man roster today, the Browns placed backup linebacker Brandon Magee on injured reserve. He suffered a pectoral injury Sunday in a 32-28 loss to the Jacksonville Jaguars.
Hanie, 28, was a backup for the Chicago Bears from 2008-11 after signing with them as an undrafted rookie from Colorado State. He made all four of his NFL starts in 2011 and went 0-4. In his career, he has thrown three touchdown passes and 10 interceptions, posting a passer rating of 41.6.
The 6-foot-2, 222-pound Hanie spent last season on the Denver Broncos' bench. He signed with the Baltimore Ravens in April, was cut in August and had been out of the league all season.
Campbell, who's 1-3 as a starter this season, suffered a concussion Nov. 24 in the third quarter of a 27-11 loss to the Pittsburgh Steelers and hasn't practiced since. He would be the team's top choice to start Sunday if healthy. On Monday, Chudzinski said Campbell, 31, had been medically cleared to exercise but not to practice.
"Jason's getting better," Chudzinski said. "He's been cleared for activity, not practice, but for activity, and we'll see how he progresses in the next couple of days."
Weeden, 30, started in Campbell's place this past weekend against the Jaguars and was diagnosed with a concussion after he reported symptoms following the game. Chudzinski said he didn't know at which point the injury occurred during the game or what affect it might have had on Weeden's performance. The team sent him home Monday after he reported to its headquarters.
Weeden fell to 0-5 as a starter this season. He completed 24-of-40 passes for a career-high 370 yards and two touchdowns, posting a passer rating of 94.8 rating, but his two interceptions and lost fumble in the final three minutes of the second quarter allowed the Jaguars to score 13 points and capture a 20-14 halftime lead.
Chudzinski demoted Weeden in favor of Campbell after back-to-back poor performances in October. But Chudzinski declined to reveal whether he would bench Weeden, if healthy, because of his rash of turnovers against the Jaguars.
"They weren't good decisions," Chudzinski said of Weeden's interceptions. "The coverage was tight and those are the things that I know Brandon would want back. I thought that he did play very well at times. He made some good decisions and some great throws, but those are the things that we have to correct and get better at."
Despite Weeden's struggles before halftime, Chudzinski said he didn't want to summon Tanney, 26, from the bench Sunday because he would have been very limited in what he could have done with only three practices under his belt. Still, Chudzinski left all possibilities open Monday, including potentially starting Tanney against the Patriots.
"We have a few days to let it sort it out, and we'll have to know something by the time that we get into practice time [Wednesday]," Chudzinski said. "If Alex is the guy, then we'll have him ready and have him working, and he'll have a package he can be successful with."
The 6-foot-3, 223-pound Tanney spent last season on injured reserve with the Kansas City Chiefs after hurting a finger, and Browns assistant general manager Ray Farmer got to know him while working as the Chiefs' director of pro personnel. The Chiefs cut Tanney in May, and he signed with the Cowboys in July. The Browns plucked him off the Cowboys' practice squad last week, and he served as Weeden's backup Sunday with Campbell out.
Tanney completed 40-of-73 passes (54.8 percent) for 423 yards and a touchdown with two interceptions, posting a passer rating of 65, in five preseason games for the Cowboys. He entered the NFL as an undrafted free-agent rookie from Monmouth College in Illinois, where he set NCAA Division III career records with 14,249 passing yards and 157 touchdowns, the highest total of all divisions.
The Browns have started three quarterbacks this season -- Campbell, Weeden and Brian Hoyer, who led the team to back-to-back wins in September before suffering a torn anterior cruciate ligament in his right knee Oct. 3 against the Buffalo Bills. They have switched starting quarterbacks four times this season and are likely on the verge of doing it again.