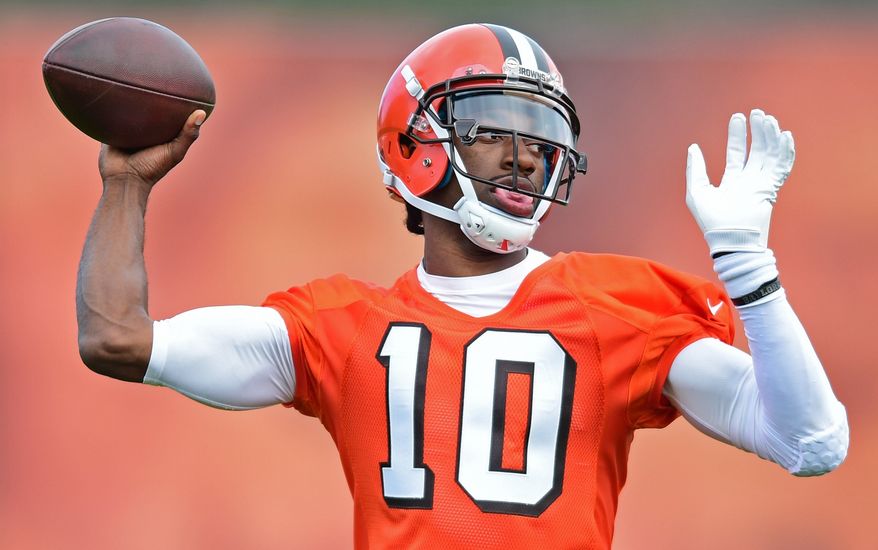 Click the link for an updated version of the story: Another chapter in Browns quarterback saga ends with release of Robert Griffin III
The Browns will cut quarterback Robert Griffin III on Friday, a person familiar with the situation confirmed.
ESPN first reported the news.
The move comes as no surprise. The Browns would have owed Griffin a roster bonus of $750,000 had he been on their roster Saturday.
Griffin missed 11 games with a broken shoulder last year and went 1-4 as a starter for the 1-15 Browns.
The Browns are searching for their next starting quarterback this offseason.
They have Brock Osweiler after making a trade for a 2018 second-round draft pick with the Houston Texans on Thursday, but the team doesn't view Osweiler as a factor for the 2017 season and could trade or release him.
That would leave second-year players Cody Kessler and Kevin Hogan as the only quarterbacks on the roster.
The Browns drafted Kessler in the third round last year. He played well at times but went 0-8 as a starter and suffered two concussions. Coach Hue Jackson also benched Kessler during a Thursday night game after lamenting his struggles in the deep passing attack.
The Browns signed Hogan to their practice squad last year after he was cut by the Kansas City Chiefs, who drafted him in the fifth round in 2016. He played but didn't start.
The Browns are expected to try to trade for New England Patriots backup quarterback Jimmy Garoppolo, but the Patriots plan to keep him.
The Browns could also target a top-rated quarterback in April's draft like Clemson's Deshaun Watson, North Carolina's Mitchell Trubisky or Notre Dame's DeShone Kizer. The franchise has the first and 12th overall selections.