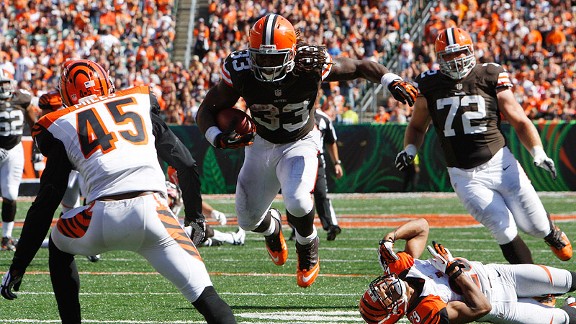 After missing some spring practices with a strained muscle in his right shin, Browns running back Trent Richardson reported to training camp early and has been practicing, coach Rob Chudzinski said this morning.
"Richardson has been full-go," Chudzinski said. "He's been practicing these last few days and looks good."
Chudzinski said players who were injured in the spring were able to report to training camp Friday, when rookies and some veterans checked in. They began on-field work Saturday.
Richardson, the third overall pick in last year's draft, suffered a strained muscle in his right shin during the second week of organized team activities in May. The injury kept him sidelined for the rest of OTAs and the team's three-day mandatory minicamp June 4-6, but Richardson insisted that he sat out for precautionary reasons and would be ready to return to action for the start of training camp.
Last year, Richardson endured an injury-plagued rookie season in which he played all but one regular-season game after undergoing knee surgery Aug. 9 and suffering broken ribs Oct. 14. He missed the season finale with a left high-ankle sprain.
Other injury updates
Chudzinski said wide receiver David Nelson and undrafted rookie offensive tackle Chris Faulk will start training camp on the active physically unable to perform list. They can be brought off the list at any point.
Nelson suffered a torn anterior cruciate ligament in last year's season opener with the Buffalo Bills, underwent knee surgery and missed virtually the entire 2012 season. Faulk suffered torn medial collateral and anterior cruciate ligaments in his right knee during practice four days after Louisiana State University's 2012 season opener.
Rookie free safety Jamoris Slaughter, a sixth-round pick in this year's draft, has been practicing, Chudzinski said. As a senior with the University of Notre Dame, Slaughter suffered a torn Achilles tendon Sept. 15.
QB depth chart
Chudzinski said quarterback Brandon Weeden will continue to take the reps with the first-team offense during training camp, followed by Jason Campbell and Brian Hoyer.
Chudzinski credited Weeden with improving his leadership and mechanics this offseason.
Schedule
All veterans are due to report to training camp by Wednesday, and the team will hold its first full-squad practice Thursday, when camp opens to the public.
Chudzinski said the team will practice in pads for the first time on Saturday.