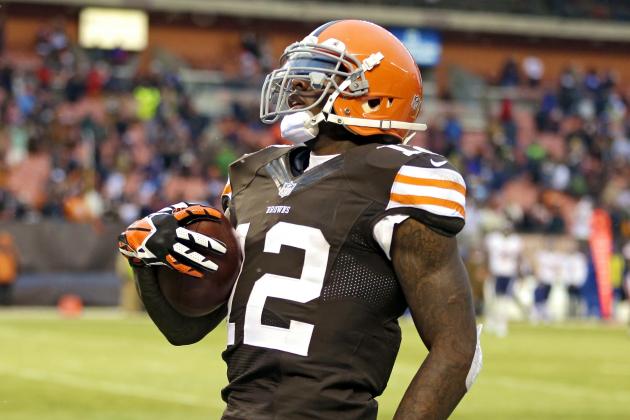 The appeal hearing of Browns All-Pro wide receiver Josh Gordon is scheduled for Aug. 1, ESPN's Adam Schefter reported this morning.
Gordon will meet with NFL officials in New York in an effort to get a suspension reduced, according to the report. A repeat offender of the league's substance-abuse policy, Gordon faces a potential ban from the league of at least a year after testing positive for marijuana, ESPN's Outside the Lines first reported May 9.
Gordon is expected to report to Browns training camp with other veterans by Friday. The first full-squad practice is set for Saturday morning. The team is scheduled to hold five practices before Gordon's appeal hearing.
Are the Browns optimistic Gordon's suspension could ultimately be less than a year?
"I've heard everything, all the possibilities, so it's just gotten to the point where it is what it is," coach Mike Pettine told the Beacon Journal on Monday. "We've planned for everything, and we're ready to go. I don't want that to be a huge dark cloud hanging over everything and we've hung our hopes on it. Typical coach mentality: Expect the worst, hope for the best."
Pettine also said the team has no plans to cut Gordon, who led the NFL with 1,646 receiving yards last season despite serving a two-game suspension for violating the league's substance-abuse policy.
"Josh is a Cleveland Brown," Pettine said. "We want to do what's best for him. We have a player that potentially needs help. Whether it's him or whether it's anybody else that wears the uniform, if we can help, we'll help. We want to make our decisions always, what's best for the player, and you try to marry it with what's best for the team. So that's why I don't think that cutting him, while it may have worked for some other people, I don't know if that's necessarily the best option here. It might be the worst option for both -- for us and for him."
Gordon, 23, hasn't been able to stay out of trouble while awaiting his appeal hearing.
He was arrested shortly before 3 a.m. July 5 in Raleigh, N.C., and charged with driving while impaired. Gordon's blood-alcohol level was 0.09 when he was pulled over for traveling 50 mph in a 35 mph zone and he admitted to having three drinks with vodka, according to a citation obtained by WNCN, an NBC affiliate in Raleigh. The legal limit for blood-alcohol level in North Carolina is 0.08.
And a Cuyahoga County Sheriff's deputy issued him a speeding ticket May 25 for traveling northbound on Interstate 71 in Strongsville at 74 mph in a 60 mph zone. A passenger in Gordon's vehicle received a citation for possession of marijuana.
The Browns are committed to trying to help Gordon work through his problems.
"We will do everything that we can," Pettine said.
One thing the Browns can't do is compensate for Gordon's anticipated absence. He's one of the best players in the NFL, so the offense must adapt to survive without him.
"You don't replace him," Pettine said. "I think you have to get creative. It's got to be a committee approach, and I think you also have to get creative in how you run your offense whether it's an extra tight end -- that's where adding Jim Dray and having a veteran like Gary Barnidge helps -- [allowing] you to maybe move [Pro Bowler] Jordan [Cameron] around a little bit and play with groupings that maybe involve less wide receivers.
"You don't become as wide receiver dependent. But we feel good about Miles Austin. We feel Hawk [Andrew Hawkins] had a great spring for us, not just in the slot. We can also play him some outside. You have a veteran like Nate Burleson that'll be a rock steady guy for you, that has a proven track record in this league. And then you've got some young guys you look forward to seeing. Charles Johnson, we're very optimistic about. You've got Travis Benjamin, who's coming back from injury. Anthony Armstrong came in and had a good spring for us. So I think we have more options there than maybe people think."
And by next week, the Browns will finally know more about the status of their No. 1 option.