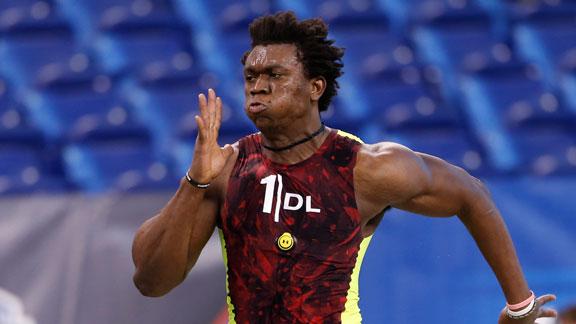 Brigham Young defensive end/outside linebacker Ezekiel "Ziggy" Ansah, Florida defensive tackle Sharrif Floyd, Oregon offensive lineman Kyle Long and San Diego State tight end Gavin Escobar will have pre-draft visits today with the Browns, league sources told the Beacon Journal.
Southern California quarterback Matt Barkley is also traveling today to visit the Browns and Buffalo Bills, he announced via Twitter. Barkley will visit the Browns on Tuesday, a source confirmed.
Alabama cornerback Dee Milliner is scheduled to visit the Browns on Tuesday, and Arizona quarterback Matt Scott is set to do the same Wednesday, sources said. Louisiana State outside linebacker/defensive end Barkevious Mingo will visit the Browns on Wednesday and Thursday, NFL Network's Ian Rapoport reported today.
The Browns have the sixth overall pick in the draft, which runs April 25-27. They're allowed to host 30 national prospects until one week before the draft, and most of the high-profile players will surface at the team's headquarters in Berea by then.
Most draft analysts project the 6-foot-5, 271-pound Ansah as an early first-round pick. ESPN's Mel Kiper Jr. is among those who believe the Ghana native will likely be taken in the top five.
Ansah has played football for only three seasons, but he captured the attention of decision makers throughout the league with strong performances at the Senior Bowl and the NFL Scouting Combine. Ansah had 62 tackles, including 13 for loss and 4½ sacks last season.
The 6-3, 297-pound Floyd, another potential top-five pick, has shown the versatility needed to play any position on the line in a three-man front, which the Browns will use while employing defensive coordinator Ray Horton's 3-4, multi-front scheme.
As a junior last season, Floyd had 46 tackles, including 13 for loss and three sacks, to go along with a forced fumble. As a sophomore, Floyd had 46 tackles, including 6½ for loss and three sacks.
The 6-6, 313-pound Kyle Long is the younger brother of St. Louis Rams defensive end Chris Long and son of Hall of Fame defensive end Howie Long. NFLDraftScout.com projects Kyle Long as a second- or third-round pick.
Before he tried college football, Kyle Long's brief baseball career at Florida State fizzled after he was arrested and charged with driving under the influence in 2009. Kyle Long then launched his football career at Saddleback Junior College, playing defensive end in 2010 and switching to offensive line a year later.
Kyle Long joined Oregon last year. He appeared in 11 games with the Ducks and started four at left guard. He also served as a backup left tackle, so he is capable of playing multiple positions.
NFLDraftScout.com projects Escobar as a second- or third-round pick. The 6-6, 254-pound Escobar compiled 122 catches and 17 touchdowns the past three seasons.
With Barkley and Scott coming to town, the Browns are continuing their thorough study of this year's quarterback class. West Virginia's Geno Smith, the top-rated quarterback in the draft, will conduct a private workout for the Browns on Saturday, Rapoport reported. Syracuse's Ryan Nassib and Florida State's EJ Manuel worked out for the Browns last week.
NFLDraftScout.com ranks Barkley No. 2 behind Smith and projects him as a first-round pick. After a stellar junior season, Barkley chose to stay in school and regressed while playing with an injured shoulder as a senior. Still, he could ultimately become a top-10 pick.
The 6-2, 227-pound Barkley received mixed reviews after throwing March 27 at USC's pro day. Browns offensive coordinator Norv Turner attended the workout and insisted he was impressed.
"I really like him," Turner told USA Today. "I liked him on tape. He's had a great career here. He's seen the adversity of playing the quarterback position. He's obviously got the physical skills.
"I mean, I'm not a doctor, but watching him throw, there's nothing wrong with him. … If you watch the tape, you'll see he's got a strong arm and he can throw the ball deep. I think he showed that in this workout."
NFLDraftScout.com projects Scott as a fourth- or fifth-round pick. The 6-2, 213-pound Scott led Arizona to a record of 8-5 while starting every game last season. He has the athletic skills needed to run the read-option offense, which Browns coach Rob Chudzinski used the past two seasons while serving as the offensive coordinator of the Carolina Panthers.
The 6-foot, 201-pound Milliner is a projected top-10 pick and might be a no-brainer for the Browns if he's available at No. 6. The Browns are in desperate need of a cornerback to start opposite Joe Haden, and Milliner could fill the void right away.
As a junior this past season, Milliner had 54 tackles, 20 pass breakups, two interceptions, a forced fumble and a fumble recovery. He compiled six interceptions in three seasons at Alabama.
The 6-4, 241-pound Mingo is another defender who could crack the top-10 picks. He has already worked out for the Browns, Rapoport reported.
Mingo compiled 14 sacks the past three seasons at LSU. As a junior last season, he tallied 38 tackles, including 8½ for loss and 4½ sacks. In 2011, he had 46 tackles, including 15 for loss and seven sacks.