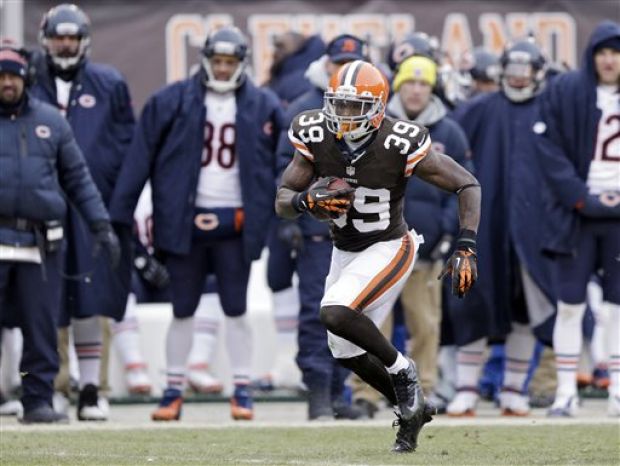 An MRI revealed Browns free safety Tashaun Gipson suffered a sprained left knee during practice Friday, a person familiar with the situation told the Beacon Journal on Saturday morning.
The person, who spoke on condition of anonymity because the Browns have yet to publicly discuss the nature of the injury, believes the team never feared Gipson suffered a torn anterior cruciate ligament.
"It was more of a precautionary MRI," the person said.
Gipson will miss some time, but exactly how much is not clear. He obviously won't participate Saturday in the team's Family Day scrimmage at the University of Akron's InfoCision Stadium. The practice is scheduled to run from 11:30 a.m. to 2:10 p.m.
"God never make mistakes," Gipson wrote on Twitter at 10:19 p.m. Friday, "trust his plan always it will never fail!"
It's not known how Gipson, a projected starter, was hurt. He had an athletic trainer check out his left knee during practice Friday at the team's headquarters in Berea. They eventually walked off the field together and into the facility with about 20 minutes remaining in practice.
Second-year safety Jordan Poyer took Gipson's spot Friday on the first-team defense. The Browns also recently signed Jim Leonhard, a veteran of nine NFL seasons who'll be a contender to fill in for Gipson as well.
The 5-foot-11, 205-pound Gipson appeared in all 16 games last season and started 15. He ranked third on the team with 105 tackles and 14 passes defensed. He also led the Browns with a career-high five interceptions, including one he returned for a touchdown.
Gipson, 23, joined the Browns in 2012 as an undrafted free agent from the University of Wyoming. He became a full-time starter last season and has quickly earned the trust and respect of his teammates.
"I think Tashaun Gipson does not get enough credit for how good he really is," Pro Bowl cornerback Joe Haden told the Beacon Journal last month. "He's a really, really good ballplayer. I think he should be a Pro Bowl player this year for sure."