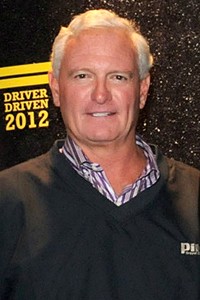 Randy Lerner has sold the Browns to Tennessee businessman Jimmy Haslam III, the Beacon Journal confirmed today.
The Browns announced the sale this evening. It now must be approved the NFL's finance committee and 75 percent of the league's owners.
Haslam will hold his introductory news conference at the Browns' headquarters in Berea at 1 p.m. Friday.
"This is a very exciting time for my family and me," Haslam said in a statement. "To own such a storied franchise as the Cleveland Browns, with its rich tradition and history, is a dream come true. We are committed to keeping the team in Cleveland and seeing it get back to the elite of the NFL – something all Browns fans want and deserve.
"We plan to bring relentless dedication and hard work to every aspect of this organization, and we look forward to getting to know this team and community as quickly as possible. Our family is committed to becoming an integral part of the Cleveland community. We also want to thank Randy Lerner for his friendship, counsel and support during this process."
The sale is for more than $1 billion, ESPN reported. The sale will be broken down in two phases with Haslam first obtaining controlling interest in the team for more than $700 million then eventually paying more than $300 million to complete the deal, according to ESPN. The Associated Press reported Haslam will obtain Lerner's 30 percent stake in the team four years after the closing date.
Lerner released the following statement:
"On behalf of my family and as trustee for the Lerner Family Trust, which holds the shares of the Cleveland Browns, I have agreed to sell the Browns to Jimmy Haslam and his family.

"I was approached regarding Mr. Haslam's interest several weeks ago. While as a fiduciary I have always felt it was my responsibility to listen to offers, I had not been approached with a proposal that felt as natural and complete as Mr. Haslam's. He had done a lot of work on the Browns and the City of Cleveland and first and foremost gave me his personal assurance the team would remain in Cleveland.

"As I was at first overwhelmed, I asked for a few days to consider the proposal during which time I consulted with my mother and sister. Over this short period we agreed that the proposal was strong, the buyers made sense and the time was right for us to move on.

"Going forward, we anticipate that the League will meet and vote on the deal and the closing is expected to follow shortly thereafter. During this time the organization will operate as it has in the past with all senior executives in place.

"While a statement like this is certainly part of the process, it couldn't possibly capture my feelings towards the Browns and the many people whom I feel very strong about. Those feelings therefore will need to be expressed in person. Notwithstanding, I feel a deep debt of gratitude to the loyal and passionate fan base, as well as the people I've met and worked with over the years. It has been a privilege to be involved with the Cleveland Browns and my only hope is that the Haslam family has the best of luck and that the Browns are restored to their rightful place among NFL Champions."
The deal must be reviewed by the NFL's finance committee, which will submit a report to the league's teams. Then the owners will vote, and 24 of 32 must approve the sale for it to be finalized.
NFL ownership could vote on Haslam's purchase at its next scheduled meeting in October, or Commissioner Roger Goodell could call for a special meeting to be held as early as this month to push the deal through sooner. Browns President Mike Holmgren met with reporters this evening and said he doesn't know whether a special session will be called.
"No special meeting has been scheduled," NFL spokesman Greg Aiello wrote in an e-mail. "It's possible but too early in the process to determine."
Either way, no holdups are expected in the approval process. Haslam has been a minority owner of the Pittsburgh Steelers since 2008, so the league is already familiar with him.
Haslam, 58, is the president and CEO of travel-center empire Pilot Flying J. His younger brother is Tennessee Gov. Bill Haslam.
Haslam must sell his stake in the Steelers for his purchase of the Browns to become official. Plans have already been made for Haslam to do so, ESPN reported.
Former Philadelphia Eagles President Joe Banner is a part of Haslam's ownership group, according to NFL Network. With Banner involved, the future of Holmgren is uncertain.
When asked if he expects to remain the team's president through the end of this year, Holmgren said, "I hope to, but we'll see. ... We'll just see how that goes."
Holmgren said he has known Banner for a long time. Browns coach Pat Shurmur, General Manager Tom Heckert and offensive coordinator Brad Childress worked for Banner when they were with the Eagles.
"Obviously he helped bring the Eagles from when the Lurie [family] bought it to what they are now," said Browns linebacker Chris Gocong, who was drafted by the Eagles when Banner was the president in 2006. "I think he's a great businessman, and we'll see what he can do here."
Gocong said he had a good relationship with Banner, though he wasn't overly visible.
"He was more of like a behind-the-scenes guy, more of the business guy," Gocong said. "As players, you really didn't see him too much in the locker room and stuff like that."
News of the sale broke last Friday, when Lerner released a statement to confirm his negotiations with Haslam. ESPN's report about a deal being reached surfaced this morning while Shurmur held his post-practice news conference.
Shurmur said he's confident a change in ownership won't derail the team during the upcoming season.
"I have no fear about any of that because I trust my coaches, and I trust the players and I've watched the work they've done based on the conversation of this last week," Shurmur said. "I've watched the work that they're doing, and I have no fear. I think we're moving full steam ahead. That doesn't bother me one bit at this point. My concern is getting this team ready to play, and players understand that message and they're doing a good job."
Browns linebacker Scott Fujita echoed Shurmur's sentiments.
"We all know that it was looming," Fujita said. "We all know that it's kind of big picture hanging over our heads, but no one's gonna let that break our focus."
Browns tight end Evan Moore doesn't think it will affect the players this year, either.
"[It means] absolutely nothing, at least to me personally," Moore said. "I can't speak for everyone in [the locker room]. It doesn't change my job. As long as I'm here and I'm wearing a Browns jersey, it'll mean the same to me."
Lerner watched practice from the field Saturday and Wednesday. He took control of the Browns after his father, Al, died in 2002. Al Lerner purchased the team in 1998 for $530 million.
Lerner and his son, Max, moved back to New York after spending last year in Cleveland while Max attended St. Ignatius High School as a freshman, Holmgren said Saturday. Lerner, 50, also owns the Premier League soccer team Aston Villa.
"I enjoyed him in the limited time we spent together," Fujita said. "I always enjoyed having conversations with him. I enjoyed his son Max quite a bit, even went to watch his son play last year in a freshman football game, and I just had a good time. Max was one of those guys that was fun to have around. He's good in the locker room. Again, I don't know Randy too well, but in the time that we did spend together, I liked him."
Holmgren said Lerner was in a good mood last weekend, but selling the team was not necessarily easy for him.
"He's an emotional guy," Holmgren said. "He loves this place. Anything like this is going to be a very tough, emotional decision."
Regardless of how Lerner feels about it, his decision is now final.