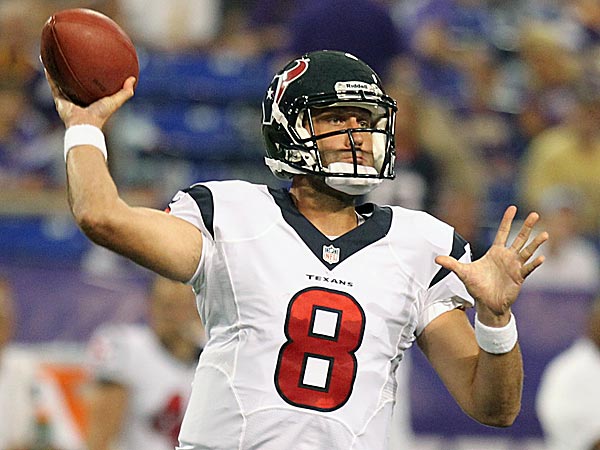 The Browns expressed some interest in creating a reunion between their new offensive coordinator, Kyle Shanahan, and Houston Texans quarterback Matt Schaub, but the Oakland Raiders have a different plan in mind.
The Raiders want Schaub even more than the Browns, and Oakland is expected to trade a late-round draft pick for him, ESPN's Adam Schefter reported this morning.
Schaub, 32, became expendable when the Texans signed former Tennessee Titans quarterback Ryan Fitzpatrick to a two-year contract on Thursday. Schaub has a $14.5 million salary-cap figure, and he's scheduled to make a base salary of $10 million next season, plus another $1 million in roster bonuses.
Schaub, a two-time Pro Bowler, lost his starting job last season. He went 2-6 and threw 10 touchdowns with 14 interceptions. His career record as a starter is 46-44.
Assuming the trade goes through, the Texans seem more likely than ever to use the No. 1 overall pick in May's draft on a quarterback. On the other hand, the Raiders seem less likely to select a quarterback fifth overall.
As for the Browns, Brian Hoyer, 28, remains their No. 1 quarterback, and speculation about Texans coach Bill O'Brien trying to trade for him carries less weight. O'Brien was Hoyer's offensive coordinator and quarterbacks coach when the two were with the New England Patriots.
Of course, the Browns are also still expected to draft a quarterback this year. Even if they don't pick one fourth overall, they have a late first-round selection (No. 26 overall) and an early second-round choice (No. 35 overall) they could use on a quarterback.
Although Schaub is on his way to the Raiders, the Browns can still reunite Shanahan with a veteran quarterback familiar with his version of the West Coast offense. Free-agent quarterback Rex Grossman spent the past five seasons with Shanahan -- one with the Texans and the last four with the Washington Redskins.
Grossman, 33, wouldn't give the Browns a projected starter the way Schaub likely would have had he gone to Cleveland. But if the Browns sign Grossman, he could be valuable in the quarterback room while helping Hoyer and likely a rookie learn Shanahan's system. Grossman has a career record of 25-22 as a starter, but he hasn't appeared in a regular-season game since 2011.