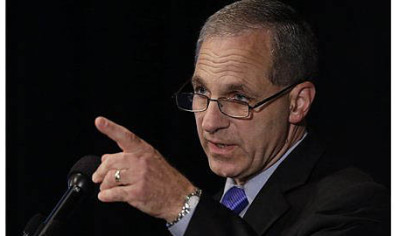 Trucking companies with class action lawsuits against Pilot Flying J have hired former FBI director Louis Freeh to investigate the Knoxville, Tenn.-based business operated by Browns owner Jimmy Haslam, News Channel 5 reported today.
The Freeh Group made headlines last summer for its findings in the Penn State child sex-abuse scandal.
The FBI and Internal Revenue Service raided the headquarters of Haslam's family business on April 15 as part of an ongoing investigation into an alleged fraud scheme. The FBI accuses Pilot Flying J of cheating trucking companies out of millions of dollars of rebates they were supposed to receive for buying certain amounts of diesel fuel.
Several of those companies have filed civil lawsuits against Pilot Flying J while the FBI and IRS continue their ongoing criminal investigation.
An FBI agent's unsealed affidavit includes transcripts of conversations with members of Pilot Flying J's sales team that were secretly recorded by informants. The document accuses Haslam, the CEO of Pilot Flying J, of knowing about the alleged scam.
Haslam has maintained his innocence. No charges have been filed in the case.