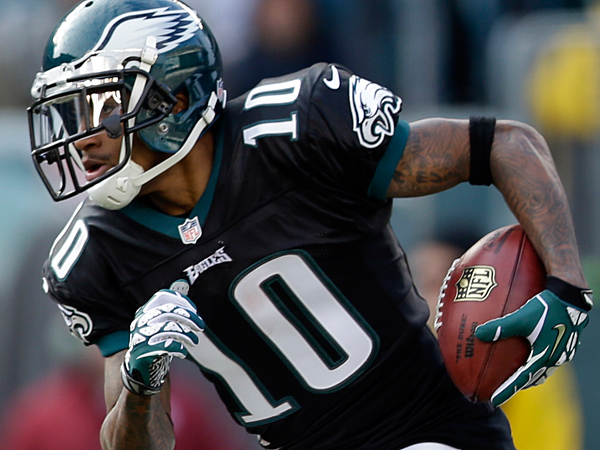 A sports anchor based in Washington, D.C., reported the Browns are pursuing former Philadelphia Eagles three-time Pro Bowl wide receiver DeSean Jackson, but the Washington Redskins might not let him get away.
NBC Washington's Diana Russini reported today the Browns "are going hard with [an] offer" after Jackson. Russini also reported the San Francisco 49ers have thrown their hat in the ring for Jackson and that he'll visit the 49ers Wednesday if he doesn't sign with the Redskins today.
As many as nine teams, including the Oakland Raiders and Buffalo Bills, reportedly expressed interest in Jackson after the Eagles cut him Friday amid questions about his off-field behavior and alleged connections to Los Angeles street gangs. The Eagles had reportedly been trying to trade him before they severed ties with little explanation.
But Jackson has visited only one team – the Redskins. ESPN.com reported Jackson had dinner with Redskins coach Jay Gruden and other members of the staff Monday night before meetings with the organization today at its facility.
The 5-foot-10, 175-pound Jackson left the team's facility this afternoon, but he's staying in town in hopes of getting a deal done, NFL Network's Ian Rapoport reported. Rapoport also reported Jackson's agent, Joel Segal, and the Redskins sat down with each other this afternoon to begin face-to-face contract negotiations.
The Browns think Jackson is a good player and have done homework on him, but they don't appear to be serious suitors. Their reported interest in Jackson, 27, might have been leaked to apply pressure to the Redskins.
Nathan Zegura, who co-hosts the team's radio show, Cleveland Browns Daily, from a studio on the second floor of its headquarters, is among the masses who would be surprised if Jackson landed with the Browns.
Zegura explained his reasoning on Twitter today, citing a deep wide receiver class in May's draft and the economic impact signing Jackson would have on Browns All-Pro wide receiver Josh Gordon, whom the team would eventually like to sign to a contract extension. Jackson is seeking a deal worth about $9-10 million a year, Washington radio station ESPN 980 reported.
The 2014 draft class and money certainly are factors teams would weigh, but they probably pale in comparison to the primary concern surrounding Jackson.
About an hour before the Eagles cut Jackson Friday, NJ.com reported the organization was concerned about "Jackson's continued association with reputed Los Angeles street gang members who have been connected to two homicides since 2010."
Los Angeles Police Department detective Eric Crosson told NJ.com that Jackson was never considered a suspect in the crimes and that police have no hard evidence that Jackson is a member of a gang. However, Crosson said Jackson has routinely flashed Crip gang signs in photos on social media and during at least one game.
"You don't want to see anybody throwing up gang signs like he did in the Redskins game last year," Crosson said. "Those were neighborhood Crip gang signs and he flashed them during a game. He may not be affiliated with the gang, but they don't [ordinarily] take kindly to those not in the gang throwing up those gang signs."
In response to the report, Jackson issued a statement denying he's a gang member.
"First I would like to thank the Eagles organization, the Eagles fans and the city of Philadelphia for my time in Philly," the statement read. "I would also like to thank coach Andy [Reid] for bringing me in.
"Secondly, I would like to address the misleading and unfounded reports that my release has anything to do with any affiliation that has been speculated surrounding the company I keep off of the field. I would like to make it very clear that I am not and never have been part of any gang. I am not a gang member and to speculate and assume that I am involved in such activity off the field is reckless and irresponsible.
"I work very hard on and off the field and I am a good person with good values. I am proud of the accomplishments that I have made both on and off the field. I have worked tirelessly to give back to my community and have a positive impact on those in need. It is unfortunate that I now have to defend myself and my intentions. These reports are irresponsible and just not true. I look forward to working hard for my new team. God Bless."
Regardless of NJ.com's report and Jackson's subsequent denial, the team that signs Jackson must first dig into his history and contemplate whether it's comfortable with the findings.
Vic Carucci, the senior editor of the Browns' website who co-hosts their radio show, and Zegura agreed on Monday that Jackson would be a detriment to the franchise.
"I don't know what he is like in the locker room, but I certainly have questions about his off-the-field character," Carucci said. "At the same time, it's incumbent on the team to get to the bottom of what the guy is all about, because there is a history and a background with DeSean that has to be sorted out. Character-wise, I just don't think Jackson is a right fit for the team, especially a team as young as the Browns. [General Manager Ray] Farmer and [coach Mike] Pettine are okay with having salty guys here, but salty with the understanding that you are a part of the program and it's not all about you. That's something you wouldn't get with Jackson."
Added Zegura: "Is [Jackson] a good player? Absolutely. Is he a dynamic player? Yes. But the Eagles just walked away from that, despite his amazing statistics. On the field, he is an A-plus player, but off the field is another story and when you have a guy here like Josh Gordon, who is one strike away from a year-long suspension, bringing a guy like DeSean in to the locker room may not build the type of environment that a young team like the Browns need. One of the things that Farmer and Pettine have been steadfast in bringing to Cleveland is guys that will help change the culture of this team. They are looking for guys that are here to help build the environment of the locker room and having someone like Jackson, whether his accusations are true or not, could pose for a hazardous situation. There are plenty of guys in this year's draft class who have close to the same amount of talent as DeSean, who you could sign for a heck of a lot less money."