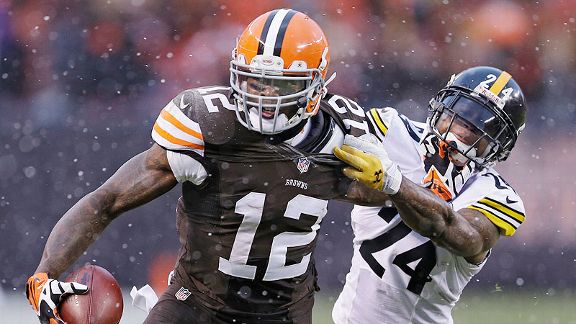 Browns wide receiver Josh Gordon is listed 16th and Browns offensive left tackle Joe Thomas is listed 18th on NFL Network's The Top 100 Players of 2014.
The standouts ranked Nos. 11-20 were revealed tonight. Players vote to form the list.
The Browns have three players on the list. Cornerback Joe Haden's place at No. 39 was revealed last month.
Gordon, Thomas and Haden made the Pro Bowl last season. It was Thomas' seventh Pro Bowl selection in seven seasons, and the first appearance for Gordon and Haden in the NFL's annual all-star game.
Gordon and Thomas were named first-team All Pro. Haden received second-team All-Pro honors.
Of course, Gordon topping the list among Browns players is a reminder about how much the team will miss him if he's suspended for all or part of the upcoming season. On May 9, ESPN reported that Gordon tested positive for marijuana and faces a potential season-long ban from the league because he's a repeat offender of its substance-abuse policy. He is appealing.