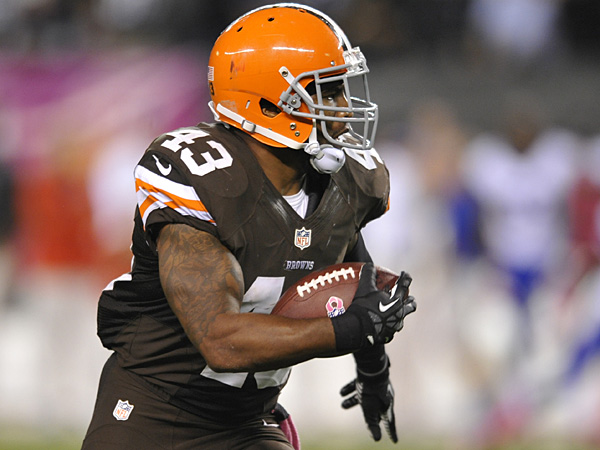 The Browns have a safety dilemma they'll need to work through if they want to protect their defense's chances of succeeding this year.
Browns Pro Bowl strong safety T.J. Ward is on the verge of becoming an unrestricted free agent when the market opens at 4 p.m. Tuesday. His agent, Josh Arnold, told the Beacon Journal Tuesday that he began engaging in detailed contract discussions with the Browns last month at the NFL Scouting Combine and that he's open to talking more despite no agreement being reached.
Meanwhile, Buffalo Bills three-time Pro Bowl free safety Jairus Byrd is also scheduled to become an unrestricted free agent Tuesday. Byrd spent this past season with new Browns coach Mike Pettine, who served as the Bills' defensive coordinator for a year. During the combine, Pettine called Byrd an outstanding player and said he had a great time with him in Buffalo.
Ward and Byrd were second-round draft picks and teammates at the University of Oregon, but the possibility of them reuniting in the NFL is extremely remote because it doesn't make sense for a team to devote a ton of money to the safety position.
Ward is open to re-signing with the Browns for what he deems the right price, and Byrd has already reportedly rejected an offer from the Bills that would have paid him about $30 million during the first three seasons of the contract.
Of course, the Browns would be competing against other teams for the services of either player once the weekend arrives. Teams are permitted to enter negotiations with agents Saturday and begin executing contracts Tuesday.
So the question Pettine and new Browns General Manager Ray Farmer face is which Pro Bowl safety should they pursue?
"Mike [Pettine] would know best how they fit," ESPN analyst and former NFL general manager Bill Polian said of the safeties during a conference call today. "They're in some ways two different style of players. T.J. Ward is an excellent box safety. Jairus Byrd is a guy who doesn't run fast on a watch but has great ball skills and instincts. So which one Mike prefers or what style he prefers is his call, and I have no idea how he sees them fitting into this defense. That's a question that he'll have to answer, but it brings me back to the central, core point, which is system fit. If a guy is a good system fit for one, it doesn't mean he's a good system fit for another, so Mike will have to make that determination."
One advantage Byrd might have is that Pettine already knows exactly how Byrd fits into his defense.
Although Tashaun Gipson has been cast as a free safety with the Browns while Ward has played strong safety, Pettine said the safeties in his system aren't forced into those traditional roles. In other words, it's not inconceivable for Byrd to be paired with Gipson, whom Pettine described as "a solid player."
"We don't talk about our guys in terms of free and strong [safeties]," Pettine said. "Our guys are interchangeable. I think that's key to our success, having guys who have the interchangeable skill set to do both. Teams can force safeties to change jobs anyway because of some of the things they can do pre-snap. So we want guys who can do both."
The 5-foot-10, 200-pound Ward finished last season tied for third among all NFL safeties in ProFootballFocus.com's rankings. The website ranked the 5-10, 203-pound Byrd eighth.
ESPN.com features Polian's free-agent tracker. Ward is assigned a "B" grad and Byrd a "B-minus."
Ward, 27, is coming off his best season since the Browns drafted him in the second round (38th overall) in 2010. Although he had missed time with injuries in previous years, Ward played all 16 games last season and 96.9 percent of the defensive snaps. He finished second on the team with a career-high 129 tackles, including 15 for loss and two sacks, to go along with two interceptions, nine passes defensed, one fumble recovery and two defensive touchdowns. He was named second-team All Pro and became an injury replacement for Pittsburgh Steelers star Troy Polamalu in the Pro Bowl.
Byrd, 27, made the Pro Bowl the past two seasons and as a rookie in 2009, when the Bills drafted him in the second round (42nd overall). The Bills franchised Byrd last year, and he boycotted the tag by holding out until late August. He then missed the first five games of the season because of plantar fasciitis in both feet. In five seasons, he has compiled 22 interceptions, including a career-high nine as a rookie, 11 forced fumbles and five recoveries.