From the U.S. Energy Information Administartion today:
Mar 14, 2014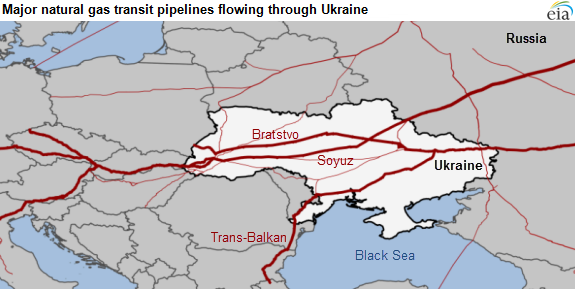 Source: U.S. Energy Information Administration, IHS EDIN, and International Energy Agency
Note: Representations of international boundaries and names are not authoritative.
---
Republished March 14, 2014, 9:30 a.m., to correct an error in the text.
Europe, including all EU members plus Turkey, Norway, Switzerland, and the non-EU Balkan states, consumed 18.7 trillion cubic feet (Tcf) of natural gas in 2013. Russia supplied 30% (5.7 Tcf) of this volume, with a significant amount flowing through Ukraine. EIA estimates that 16% (3.0 Tcf) of the total natural gas consumed in Europe passed through Ukraine's pipeline network, based on data reported by Gazprom and Eastern Bloc Energy.