From the U.S. Energy Information Administration today:
Dec 6, 2013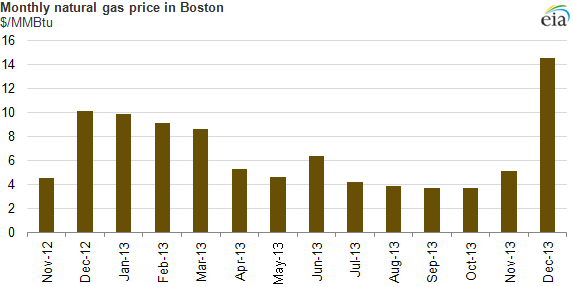 Source: U.S. Energy Information Administration, based on Energy Velocity and the IntercontinentalExchange (ICE)
Note: Data are from the IntercontinentalExchange monthly natural gas index
---
The average bidweek price of natural gas in New England for December settled at $14.52 per million British thermal units (MMBtu), well above prices in other U.S. regions, according to the IntercontinentalExchange monthly index. The bidweek price, shown in the chart above, sets in a price for natural gas over the entire month at agreed upon volumes. In the past 20 years, natural gas prices in the Northeast have only reached this level on two occasions. In 2005, hurricanes Katrina and Rita led to extremely high prices at the benchmark Henry Hub in Louisiana, and the financial crisis in 2008 led to high natural gas prices throughout the United States. This December is the first time that the bidweek price at the Algonquin hub, which serves Boston, has reached this level.