From U.S. Energy Information Administration on Thursday:
Jun 20, 2013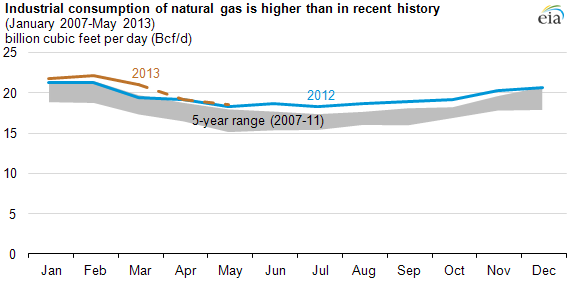 Source: Data through March 2013: EIA-857, Monthly Report of Natural Gas Purchases and Deliveries to Consumers, April and May 2013: Bentek Energy LLC.
Note: Figures for April and May 2013 are estimates from Bentek Energy LLC based on pipeline flows, represented as a dashed line.
---
Natural gas use for industrial purposes was more than 3%, or 0.6 billion cubic feet per day, greater during the first five months of 2013 compared to the same period in 2012. Higher industrial gas usage reflects recent economic gains and sustained, historically low natural gas prices that have provided operators of natural gas-intensive industrial facilities in the United States a cost advantage relative to competing facilities that rely on higher-cost energy sources.