From the U.S. Energy Information Administartion today:
Oct 8, 2013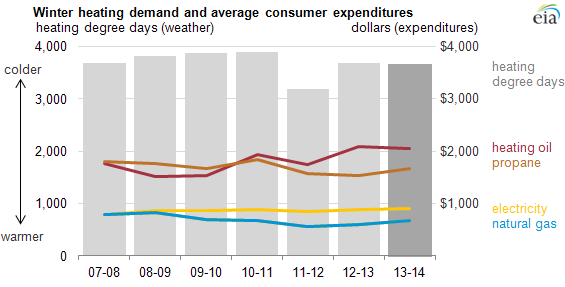 Source: U.S. Energy Information Administration, Short-Term Energy Outlook, October 2013
Note: Data for the winter of 2013-14 are the most recent forecasts. Propane data are the weighted averages of the Midwest and Northeast regional prices and consumption.
---
Republished October 8, 2013, 1:15 p.m. to clarify text and add a link.
More than 90% of the 116 million homes in the United States are expected to have higher heating expenditures this winter (October 1, 2013-March 31, 2014) compared with last winter, mainly because of higher projected prices for residential natural gas, propane, and electricity, according to the U.S. Energy Information Administration's Short-Term Energy and Winter Fuels Outlook. EIA projects that average household expenditures for homes heating with natural gas will total $679 this winter, a 13% increase over last winter's average but 4% below the average of the five previous winters (October 2007-March 2012) (see chart above). Homes heating primarily with propane are expected to spend an average of $1,666 (9% more than last winter), while homes with electric heat are expected to spend $909 (2% more), and homes using heating oil are expected to spend $2,046 (2% less).