From the U.S. Energy Information Administartion late last week:
Oct 9, 2013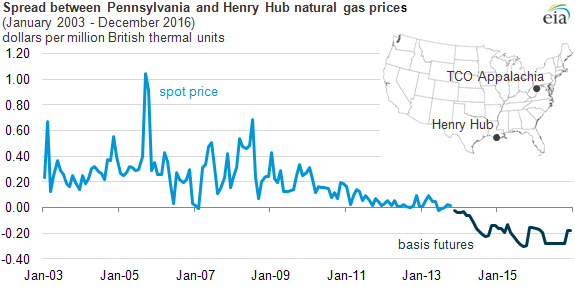 Source: U.S. Energy Information Administration based on Bloomberg LP
Note: Spot prices computed by averaging daily prices for TCO Appalachia and Henry Hub points and then subtracting the average monthly price for Henry Hub from TCO Appalachia. A negative price means that TCO Appalachia has a lower price than Henry Hub. The forward price for TCO Appalachia is the Nymex basis futures contract.
---
Growth in natural gas production from the Marcellus region of Pennsylvania, West Virginia, and Ohio has lowered the spot price of natural gas at the TCO Appalachia trading point in recent years. Forward market prices for natural gas indicate that this production growth will continue, driving the price in this region below the benchmark Henry Hub price early next year.