From the U.S, Energy Information Administartion today:
The U.S. Energy Information Administration's new "Today in Energy" brief looks at how natural gas accounted for over half of the increase in U.S. power plant generating capacity last year, with solar power coming in second.
"Natural gas-fired power plants accounted for just over 50% of new utility-scale generating capacity added in 2013. Solar provided nearly 22%, a jump up from less than 6% in 2012. Coal provided 11% and wind nearly 8%. Almost half of all capacity added in 2013 was located in California. In total, a little over 13,500 megawatts (MW) of new capacity was added in 2013, less than half the capacity added in 2012."---EIA's Today in Energy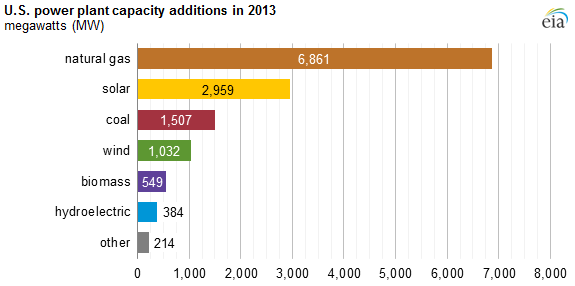 The "Today in Energy" brief was posted Tuesday on EIA's website (www.eia.gov).