From the U.S. Energy Information Administration today:
Jan 7, 2014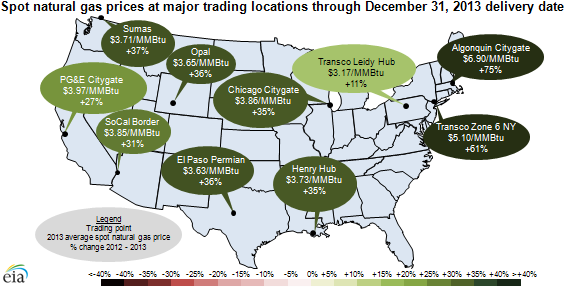 Source: U.S. Energy Information Administration based on SNL Energy
Note: Spot prices are averaged by delivery date.
---
Republished January 7, 2014, text was modified to clarify content.
Average wholesale (spot) prices for natural gas increased significantly throughout the United States in 2013 compared to 2012. The average wholesale price for natural gas at Henry Hub in Erath, Louisiana, the key benchmark location for pricing throughout the United States, rose 35% to $3.73 per million British thermal units (MMBtu) in 2013. Increased winter demand pushed inventories down and prices up to above $4.00/MMBtu in March and April, but decreased consumption for electric generation over the summer and positive (but flattening) production growth kept 2013 prices at their lowest level since 2002 with the exception of 2012.