From the U.S. Energy Information Administration today: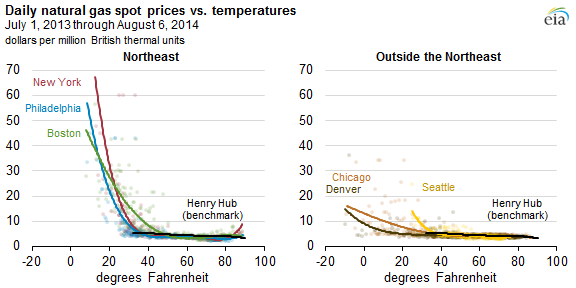 Source: U.S. Energy Information Administration, with data from Bloomberg and SNL Energy
Note: Lines represent best-fit fourth-order polynomial equations based on a scatter plot of temperatures observed at major airports in each city, and prices at nearby market hubs. Best-fit lines do not extend to cover the entire range of all temperature and price observations. Spot prices are by delivery date.
---
Natural gas spot prices fluctuate throughout the year in response to several factors, including weather, production levels, supply interruptions, pipeline constraints, inventory levels, and the availability of other energy sources. Temperature changes, more than any other factor, most frequently correlate with natural gas spot price movements. Natural gas demand and, in turn, natural gas prices in the spot market, will generally rise as temperatures move further away from 60 degrees Fahrenheit, as more natural gas is needed for space heating as temperatures cool and for power generation as temperatures warm.