From the U.S. Energy Information Administration:
Jan 22, 2014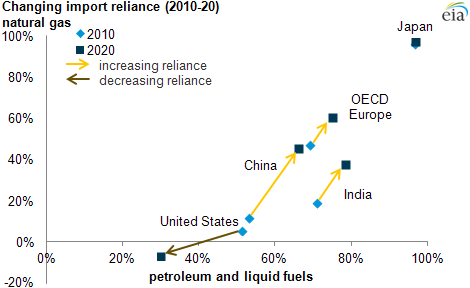 Source: U.S. Energy Information Administration, 2013 International Energy Outlook (IEO) and 2014 Annual Energy Outlook (AEO) Early Release for U.S. 2020 projections
Note: Import reliance is expressed as (consumption-production)/consumption. While this analysis focuses on the mid-term 2020 timeframe, IEO projections extend to 2040. Chart recreated based on a Bloomberg New Energy Finance graphic using International Energy Agency data.
---
The 2014 Annual Energy Outlook projects declines in U.S. oil and natural gas imports as a result of increasing domestic production from tight oil and shale plays. U.S. liquid fuels net imports as a share of consumption is projected to decline from a high of 60% in 2005, and about 40% in 2012, to about 25% by 2016. The United States is also projected to become a net exporter of natural gas by 2018.