From the U.S. Energy Information Administration:
Jul 29, 2013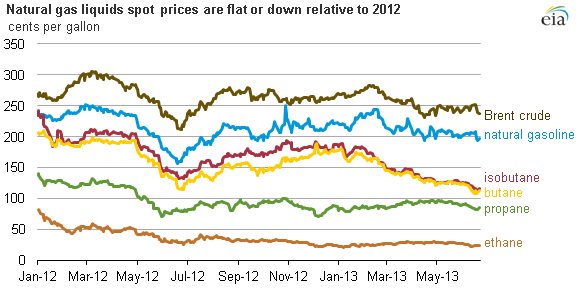 Source: U.S. Energy Information Administration based on Bloomberg Financial-reported prices at Mont Belvieu, Texas.
Note: Natural gasoline is the product name used by the spot and futures markets to describe pentanes and hexanes. These are the primary components of pentanes plus, the term used by EIA in its surveys and reports.
---
Republished: July 29, 2013, 9:45 a.m.: Text was modified to clarify content.
Daily spot prices for natural gas liquids (NGL)—ethane, propane, normal butane, isobutane, and natural gasoline—have moderated because of a combination of ample supply, flat or moderating demand, export constraints, and domestic infrastructure constraints.