From the U.S. Energy Information Administartion today: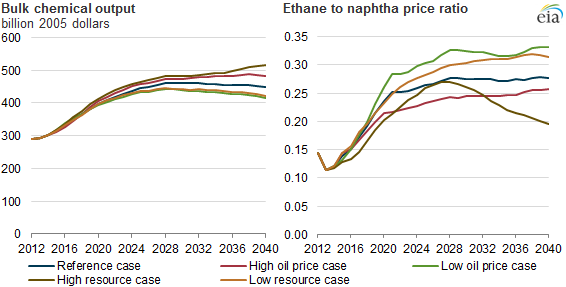 Source: U.S. Energy Information Administration, Annual Energy Outlook 2014, Issues in Focus
Note: The term bulk chemicals is directly related to bulk commodities primarily traded in large bins as powders and pellets.
---
Projected bulk chemicals production is quite sensitive to alternative assumptions regarding long-term oil prices and domestic oil and natural gas resources, according to recently released analysis in EIA's Annual Energy Outlook 2014 (AEO2014) Issues in Focus. This sensitivity reflects price changes for natural gas and hydrocarbon gas liquids (HGL), which bulk chemical producers use for heat, power, and feedstock. Also, changes in oil prices affect the bulk chemical industry because the industry's international competitiveness relies on the price ratio of oil-based feedstock (mostly naphtha) to natural gas-based feedstock (mostly ethane).