From the U.S. Energy Information Administration today: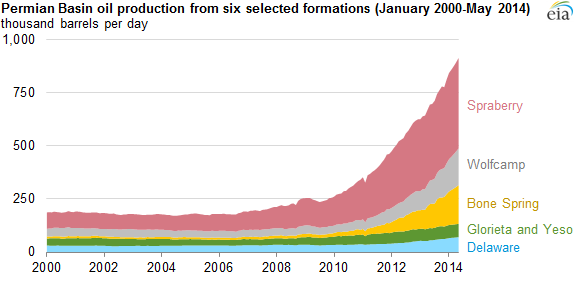 Source: U.S. Energy Information Administration calculations, based on data from Drillinginfo
Note: Production through December 2013 is reported. Production from January 2014 through May 2014 is estimated. Glorieta and Yeso are separate formations combined for this article. Additional amounts of Permian production come from other formations not included in this graph.
---
The Permian Basin in Texas and New Mexico is the nation's most prolific oil producing area. Six formations within the basin have provided the bulk of Permian's 60% increase in oil output since 2007. Crude oil production in the Permian Basin has increased from a low point of 850,000 barrels per day (bbl/d) in 2007 to 1,350,000 bbl/d in 2013.