Jul 10, 2013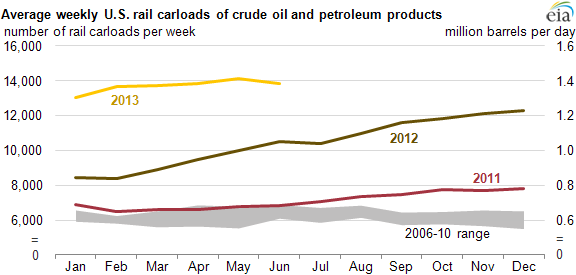 Source: U.S. Energy Information Administration, based on Association of American Railroads.
Note: Petroleum product rail shipments do not include ethanol. Conversion of rail carloads per week into million barrels per day includes assumption of 700 barrels per rail carload.
---
With U.S. crude oil production at the highest level in two decades, outstripping pipeline capacity, the United States is relying more on railroads to move its new crude oil to refineries and storage centers. The amount of crude oil and refined petroleum products transported by rail totaled close to 356,000 carloads during the first half of 2013, up 48% from the same period in 2012, according to Association of American Railroads (AAR).