From the U.S. Energy Information Administartion today: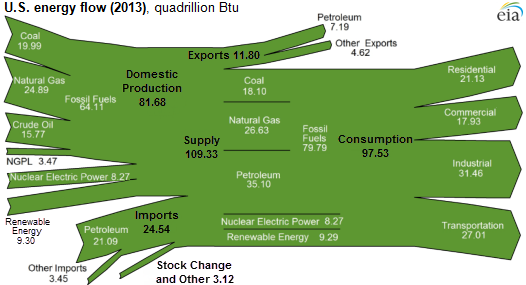 Source: U.S. Energy Information Administration
Note: Supply equals domestic production, plus imports, plus stock change and other. Consumption equals supply minus exports.
---
Total U.S. energy production reached 81.7 quadrillion British thermal units (quads) in 2013, enough to satisfy 84% of total U.S. energy demand, which totaled 97.5 quads. Natural gas was the largest domestically produced energy resource for the third year in a row and, together with the other fossil fuels (coal, crude oil, and hydrocarbon gas liquids), accounted for more than three quarters of U.S. energy production. In total, the United States consumed 97.5 quads of energy, 82% of which was fossil fuels. Renewable and nuclear energy made up 10% and 8%, respectively, of U.S. energy consumption.