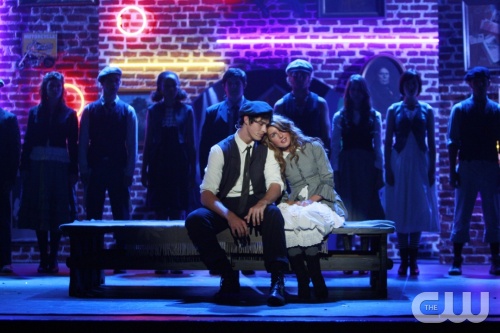 Wide Awake and Dreaming, indeed ...
I wasn't in a big hurry to watch last week's episode of "90210," because I wanted to get through the second-season premiere of "Beverly Hills, 90210" (posted about below), since -- based on the promos for the new series -- they were both dealing with the question of sex for the show's leading lady. Fooled by a promo again. ....
While "90210" will undoubtedly have plenty of opportunities to deal with sex, and while Silver is taking a good whoa-buddy approach to Dixon (and there was even that line from Naomi suggesting that Silver's a virgin), this episode was still a sham.
Yes, there was some discussion between her and her parents about having sex, conversations with considerable echoes of "Beach Blanket Brandon," the second-season premiere of "BH90210," including in the issue of whether Annie is emotionally ready for sex. (Brenda, you will recall, thought she was but realized with the pregnancy scare that she was not.) But besides the deeply creepy bit where Annie asks Dixon for his condom, the issue of Annie having sex was instead reduced to a plot point to establish what a bitch Adrianna is, and to throw confusion into the Annie/Ethan/Ty equation.
Worse yet, it was done when there were clearly narrative parallels built into the episode: Dixon and Silver, of course, but also Naomi's mother and father, for whom sex was an extension of their combative relationship and for whom the sex resolved nothing. Where "BH90210's" dealing with sex in the Brenda-Dylan relationship was at least initially an attempt to say that the show should be taken seriously, new "90210" took the same subject and turned it into a demonstration of how frivolous it is. Nor does it help that Shenae Grimes's performance as Annie is getting twitchier and more over the top.
Did like the Kelly-Brenda self-referential chat, with Brenda saying, "I forgot what it was like to be in high school" and Kelly declaring, "It's OK for these kids to make mistakes. We did."