A few thoughts on the eve of the opening ceremonies. ...
You can find the above image and more from the Berlin games in 1936 here.
My enthusiasm for the Olympics is revving up (I didn't wake up at 5 a.m. today to watch men's soccer, but I did turn on the TV shortly after rising at 6:30 a.m. and caught the last 10 minutes or so of the game.)
But I do not want to forget that the Olympics are a huge propaganda tool for the host country. Much the way Nazi Germany expected a public-relations coup from its hosting of the 1936 games, China wants one this year. And just as the Nazis cleaned up some of their more blatantly anti-Semitic practices for the duration of the games, China is trying to make sure that things go smoothly during its games.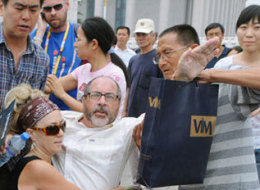 (Huffington Post)
From a Washington Post report on recent political protests:
The developments, particularly the protests by foreigners, highlighted the difficulties facing China's Communist Party rulers as they try to show television viewers in China and the world a prosperous, harmonious country during the celebrations, even at the cost of heavy-handed security restrictions.
The many Chinese who might be tempted to protest during the Games -- including human rights advocates, pro-democracy agitators or farmers disgruntled over land confiscations -- have been largely cowed into silence by a security crackdown that has left thousands in detention, under house arrest or banned from travel to Beijing.
But while China has been trying to control the spin, and limit access to negative news it shouldn't be easy. It will be interesting to see tomorrow night how NBC handles the arrival of Lopez Lomong, the U.S. citizen and former Lost Boy of Sudan, when he carries the U.S. flag in the opening ceremonies; China has worked very hard to deflect attention away from its role in Darfur.