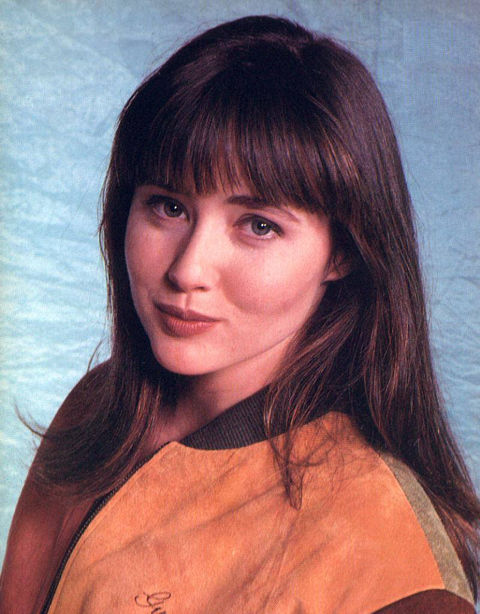 Originally aired Dec. 6, 1990. Brenda works at a "rap line," Brandon has his eye on an older woman. And, in a classic case of life and art overlapping, Donna wants a nose job.
Synopsis: It's "grudge week" at West Beverly, a series of events with revival Beverly Hills High School, and we're seeing an outdoor rally that is part of it. (We also see that David Silver is now the voice of West Beverly, following up on the deejay auditions in the previous episode, with Scott as his screwing-up sidekick.) Brandon eyes one of the cheerleaders, but also notices that a freshman girl is eyeing him. Brenda is enjoying the rally, but Kelly and Donna insist on leaving -- to shop.
Later, Brenda returns home in a bad mood. She's tired of shopping and wants to do something meaningful. Brandon tells her about a "rap line for teens" where Andrea volunteers. Brenda later approaches Andrea, who is skeptical to the point of snottiness about Brenda getting involved, but Brenda persists. But she has to go through training, which that night means just watching the other volunteers at work. She hears calls about parent problems, drugs and a kid masturbating. Kelly also calls about a crisis -- "Donna just told her mom she wants to get a nose job" -- but Brenda is not amused.
At the Peach Pit, Brandon sees Nat getting an acupressure massage from Nina (Kim Gillingham), who also gives Brandon a massage and seems to be hot for Brandon. He is very interested, especially later, when Nina wants Brandon to come to her place so she can try out her herpal-wrap technique.
Back at the rap line, Kelly is late picking up Brenda after it down for the night; going back inside to call Kelly, Brendan gets a call from an unidentified girl and talks to her. After much hesitation, the girl asks, "How do you know if you've been raped?" And Brenda thinks she recognizes the voice.
Next day, Brenda goes to Andrea for advice but Andrea, patronizing, thinks Brenda wants to quit. But she shows up at the rap line that night, to Andrea's surprise; as they are closing up, the girl calls and says she has been raped again. At school, Andrea tells Brenda how impressed she is with the way Brenda handled the call, while Brenda is on edge because she keeps listening for the girl's voice in the school crowds.
Brandon goes to Dylan for advice about his "older woman" Nina. Brandon calls her "hot but in an organic way -- kind of like Debra Winger." Dylan is very amused by Brandon's questions. The audience is equally amused later, when Brandon gets to Nina's apartment and sees she has a fella.
Meanwhile, at the rap line, Brenda waits for another call. Finally, very late, with Brenda and Andrea having waited, the girl calls again. When she hears Brenda talking to Andrea, she gets angry, feeling that Brenda has broken a promise not to tell anyone. But Brenda recognizes the girl's voice as Bonnie (Lisa Dean Ryan), a sophomore cheerleader, and goes to Bonnie the next day. Bonnie downplays the incidents, and verbally attacks Brenda. But that night, after a grudge week rally, when two jocks attack Bonnie in the school parking lot, the police arrive and arrest them; Brenda -- who is on hand with Brandon, Andrea and Carol (the rap line supervisor) -- has figured out when the attacks are taking place.
And Donna doesn't get a nose job -- but her parents promise her a new car instead.
Comments: While this episode could have been easily promoted as about date rape, it's not really about that. Yes, a guest actor has been raped, and that is taken very seriously, but the episode is more about the way Brenda deals with the girl on the phone than it is about date rape itself. It focuses more on the issue in the title -- "The Gentle Art of Listening" -- with Brenda listening carefully to the girl on the phone, and Brandon so fantasy-wrapped that he doesn't really listen to what Nina is saying. As was the case in "Seventeen Year Itch," Brenda here proves more perceptive than Brandon.
Of course, the episode sets Brandon up to a certain extent; while the words Nina says are not deliberately forward, Kim Gilliingham's intonation leaves open the possibility of something more, Nina never mentions that there's a man at home and Nat, who seems to know a lot about Nina, doesn't mention a significant other when Brandon quizzes him about Nina.
"The Gentle Art of Listening" does give other members of the ensemble some screen time, and clear oles. Both Kelly and Andrea are more unpleasant -- Kelly because of her social snobbishness, Andrea because of her contempt for West Beverly's social rituals (and her misjudging Brenda because she sees her as part of the social elite). Kelly's bitchiness is especially strong when she calls Brenda at the rap line, through her contemptuous, "Do we still want to be a social worker?"
Jim, meanwhile, is out of town for this episode. Cindy, who was working in "Seventeen Year Itch," appears to have lots of free time again; she's volunteering two days a week at the recycling center.
Dylan is the cool man of the world, and something of an older brother to the still-naive Brandon; the scene where Brandon wants advice about Nina is pretty funny. Not much insight into Steve in this episode. David now has an identity, as a deejay, and Scott -- sad to say -- is more clearly defined as David's dopey friend.
The script also begins trying to be franker and more risque. The straightforward reference to masturbating is one example.
A last note:
-- Bonnie, the cheerleader calling the rap line, is played by Lisa Dean Ryan, best known as Wanda on "Doogie Howser, M.D."