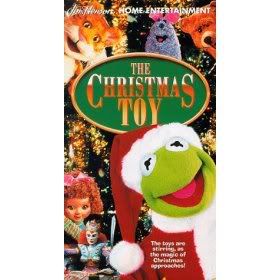 Even if it's early to be talking holiday fare, I have gotten questions over the years about this '80s Jim Henson production coming to DVD. And now it will. The release date is Nov. 4, the retail price is $14.98. The announcement follows the jump.
This holiday season Jim Henson's award winning The Christmas Toy movie will be available for the first time ever on DVD! This charming tale about toys that come to life on Christmas Eve received the 1987 Golden Hugo Award for Children's Programming at the Chicago International Film Festival and was nominated for an Emmy® for Outstanding Children's Program. Part of the Jim Henson's Christmas Classics line, The Christmas Toy is a live action story featuring a cast of loveable puppets from Jim Henson and delightful original songs by Jeff Moss.
DVD SYNOPSIS
It's Christmas Eve in the Jones' household and all the toys in the playroom magically come alive, anticipating the arrival of new toys. But they must be very careful. If anyone finds them "alive" they will be frozen forever! Balthazar, the wise old bear, gives his annual Yuletide speech imparting the importance of opening their hearts to the newcomers, but Rugby the tiger will have none of it. Having been a Christmas gift the year before, it has been all about him and he has no interest in losing his position as favorite toy. Despite the danger, Rugby sets out to join the presents under the tree downstairs to become Toy #1 all over again. During the harrowing adventure Rugby accidentally lets Meteora, Queen of the Asteroids, loose. Apple the doll, Mew the cat toy and the other toys rally together to return Meteora to her rightful package and help Rugby safely get back to the playroom before all are found and frozen.
This glimpse into the secret lives of toys shows young viewers that love, friendship and helping others are the most important gifts of all! ...
PROGRAM INFORMATION
Year of Production:
Title Copyright: © 2008 The Jim Henson Company. JIM HENSON mark & logo, THE CHRISTMAS TOY mark & logo, characters and elements are trademarks of The Jim Henson Company. All Rights Reserved.
Type: DVD Premiere
Rating: NR
Genre: Family/Children
Age Target: Children 2-8
Closed Captioned: English Closed Captioned
Format: Full Screen
Feature Running Time: 59 minutes
DVD Audio Status: 2.0 Dolby Digital