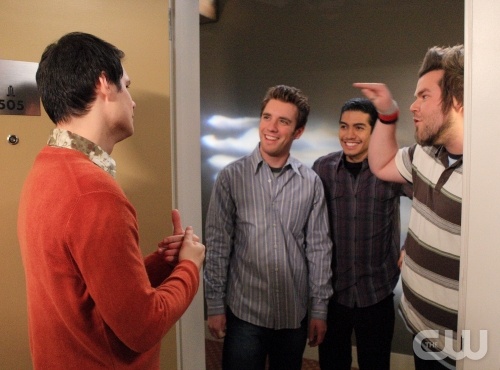 Could Michael Ian Black be the show's salvation? Notes after the jump ...
As I have said more times than I can remember, "Reaper" is a show that has seemed to have limitless potential but too often hasn't measured up to it. Last night's episode, though, finally put a whole bunch of loose pieces together, even if it may be too late. (The show comes back on April 22, and I suspect CW will have made most or all of its fall 2008 decisions by then. And The CW has become increasingly girly, and "Reaper" is decidedly not girly. It's a guys' show through and through.)
Anyway, the addition of the demon neighbors a week ago, and their becoming part of Sam's orbit last night, moved the show much closer to a "Buffy"/"Angel" world. All right, close to some of the funny episodes of those shows; still, the genuine threat to Andi's well-being -- and Sam going all Peter Parker (or at least the "Spider-Man 1" Peter Parker) -- gave the show some heft that it has not as a rule been comfortable with.
All of which is a roundabout way of saying the show may have figured itself out. And not in a that's-a-good-episode way but in a way that lets viewers think there are plenty of stories yet to tell. Of course, we have to wait until April 22 to know if that is really the case, and we may not get to see much beyond that.
The "Jericho" series finale -- or at least the CBS finale, since apparently there is still some scrambling to keep the show going -- offered a pretty open-ended wrap. Since there's still a war to be fought, a nation still divided, a Jericho that's a mess, hostile forces down the road in New Bern ... Well, you get the idea. If not more episodes, some two-hour movies perhaps?
That said, the finale still had the rushed quality of a show trying to wrap up a bunch of storylines with the understanding that it had run out of time. (See the series finales of "Kidnapped" and "Day Break," other shows that knew the end was nigh, and listen to the commentary on the DVD of the series finale of "Day Break.") And some of the surprises just didn't feel all that surprising. I mean, did anyone not think that (a) aircraft would come after Jake and (b) Texas had its own air force?
Still, I would have liked to see the conclusion drawn out more, and to see what would have been in store for the third season, whether through the ending as presented or the even more inconclusive one that was shot. Of course, I liked the show and, as I've said before, it seemed like a good alternative to "24" for the serialized-TV-thriller crowd.
The "Heroes" soundtrack, below, has been out for a couple of weeks now but I've neglected to explain how much I like it.

It's a blend of soundtrack music from the show (from the splendid Wendy & Lisa), old songs, new songs, not so much songs from the show but -- as Allan Arkush says in the CD liner notes -- "the music that helps us make the show."
But here's why I like it: because it feels like a seamless, complete thing instead of a collection of songs. When I put it on, I am not inclined to skip cuts because the soundtrack has its own flow, and I don't want to break that up just because I feel like hearing Wilco or Dylan or Death Cab or, yes, Bowie, another time. In fact, it's a better total work than a lot of second-season episodes of "Heroes" have been. To use some honorable old words, it's a concept album. And it knows what that requires.
Pretty nifty illustrations, too.