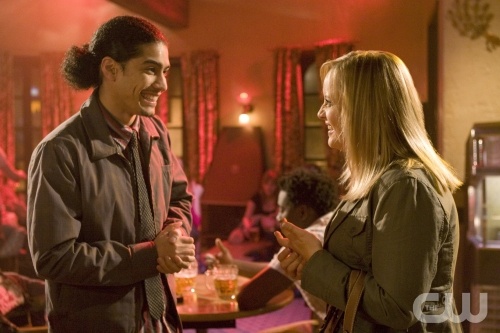 Nice to see Lucy Davis again. Even better to see that she was still around at the end of the episode.
Trying to catch up on things I've missed. Am sampling the "Costas Now" town meeting, including the Bissinger rant/debate.(Good gosh, Braylon Edwards, what did you think you had walked into?) But here I'm going to talk a bit about some of the Monday/Tuesday dramas that I finally grabbed some time to watch today. After the jump. ....
Good "Reaper" last night. Nice mix of horror and humor, a fun runaway soul (played with great aplomb by Ian Gomez), a good introduction of Lucy Davis as Ben's wife (and better yet that they set it up so she will be around for a bit). The demon-devil war isn't over, and Sam has been put in a great spot in it. And, possibly best of all, Andi is now in on Sam's secret, so we don't keep suspending disbelief that he could keep it hidden. This was yet another episode that said this show still has a lot of stories to tell, and I would love to see what else it tells.
Kind of blah episodes of "House" and "Bones," and neither is one something I would point people to if I wanted them to watch the show more than once. The domestication of Temperance was mildly interesting, but only in the context of what she's been for dozens of episodes. And how freakin' rich must she be if she can afford to build a bridge? She must have gotten a pile for the movie rights.
"House" felt disjointed, although I liked the ending -- the patient discovering something that he did not like, with the question of what else he won't like left hanging. Since I haven't seen "House" in some time, I am wondering if its rhythms were off because of the strike, or if my viewing is off because I haven't felt its rhythms for some time.
As I said in a previous post about "Grey's Anatomy," the absence of a connection to a show for weeks may make it that much harder to enjoy it again, especially if it has a particular voice. Comedies, I suspect, are less likely to have that impact than dramas, because a good laugh is a good laugh even if you haven't chuckled in weeks. But the stuff I've been talking about here, or something like last week's "CSI," which also felt off-kilter, have me thinking once again that the damage of the strike is much deeper than anyone thought when it was over.