If there were going to be nude pictures of a "High School Musical" star, I would have expected to see the more aggressively career-minded Ashley Tisdale before Vanessa Hudgens. Or even Zac Efron, who seems quite ready to be a grownup. But no, we got a Hudgens photo first. And, while I thought it looked suspiciously photoshopped, Hudgens has now admitted that the photo is of her.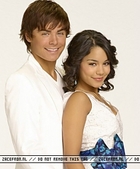 The picture taking, even if the photo was originally intended to be private, is a disappointment.
I have a column in Sunday's Beacon Journal about the increased sexual content of movies and TV. I made the point that, even as some audiences are drawn to the likes of "Superbad" and online porn, there is another audience that wants its entertainment squeaky-clean -- and the high ratings for "High School Musical 2" demonstrate that a lot of folks are in the latter camp.But now the people who believed in the two "HSM" movies have to feel betrayed, that someone who promised them an alternative to adult fare was in fact acting far more adult than her audience ever would have wished.