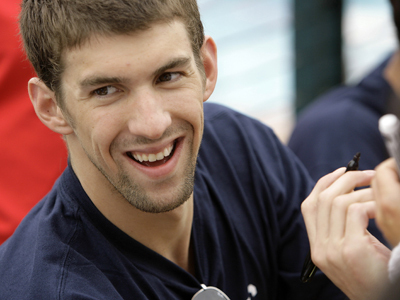 "Medals, shmedals. I've got my own DVD!"
(Pic From Huffington Post)
From NBC:
NBC Olympics is offering fans the chance to relive the greatest moments from the 2008 Beijing Olympics Games, including all eight of Michael Phelps' gold medal races, through a trio of DVDs available for sale on NBCOlympics.com. Also available is a two-volume set with the complete Opening Ceremony and a highlight DVD recapping all the great moments and stories from the Beijing Games.
Michael Phelps: Greatest Olympic Champion...The Inside Story (19.99):
Having stood on the gold medal podium a record eight times during one Olympic Games, Michael Phelps now stands alone as the greatest Olympic champion in history. With exclusive interviews and commentary, Michael takes us on his personal journey to Olympic stardom. This compelling DVD includes all of his races and special behind-the-scenes footage... a DVD to be cherished for years to come.
2008 Beijing Opening Ceremony 2-Volume DVD ($29.99):
This two-volume set is your opportunity to once again witness the most memorable Opening Ceremony in Olympic history, the complete four-hour extravaganza. A special index allows you to easily navigate throughout the entire ceremony. Own the celebration that people will be talking about forever.
2008 Beijing General Highlight DVD ($19.99):
Relive the drama and excitement...all the incredible performances and athletic achievements that captivated the world are captured on the official Olympic DVD from NBC Sports. The DVD includes special bonus chapters featuring gold medal performances of Olympic champions.
According to the sales site, you can order now but the DVDs will ship Sept. 15.