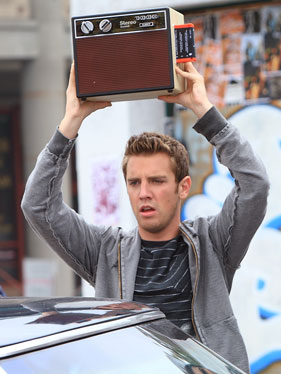 If only I had an 8-track of "In Your Eyes" ...
I expected more, as I will explain after the jump ...
When I saw last week's promo for "Reaper," I was expecting, fearing, hoping that they were going to go "Grindhouse," dropping the guys into the visual and narrative equivalent of a movie with a title like, oh, "Love, Bullets & Blacktop."
Coming off a Halloween episode that made me believe in the show again, that could have been a very bad idea -- or kind of fun, especially if it gave all the "Reaper" gang a chance to become exploitation-movie characters.
Unfortunately, that's not what I got, and even the presence of the sublime Mercedes McNab was wasted. Yes, she can intimidate in a convincing manner, but she's got more range as an actress than that. Or did in her Joss Whedon days, anyway.
So what were we left with? A sporadically amusing but not overly interesting episode that was preoccupied with romantic entanglements and, Curtis Armstrong notwithstanding, allusions to the '70s that proved to be nothing more than sidelights.
Then again, when the Devil gets the blues, he turns to ... Brenda Lee. So I'm not done yet.