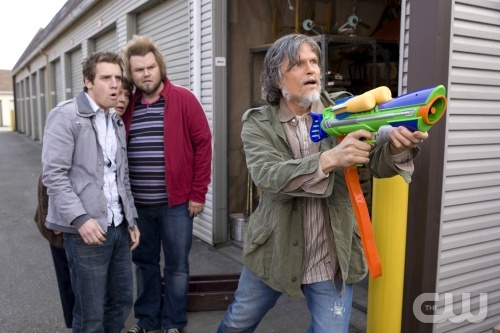 I've got a fever, and the only cure is more Kober...
"Reaper" just gets more and more confident every week, building on its devil/demon subculture (with this week's great addition of a burnout scrounger played by Jeff Kober, above, as well as more details about Gladys). And the Lucy Davis subplot has continued to have good little bits; it was in some ways more entertaining than the main plot. (Didn't we all immediately sense that Andi's ex-boyfriend was the chainsaw maniac?) This is a show that has found its voice, hit its stride and any other compliment your inner Paula Abdul can generate. "You're so you, you know yourself ..."
"House," meanwhile, was amusing but seemed to show too many cracks in its basic setup. I know that every week involves House et al. making a series of mistaken diagnoses before hitting the right one, but it seemed especially annoying and wrong-headed in this episode. Maybe having the inspector in the hospital heightened my sense as a viewer that things were going wrong. I did enjoy House's obsession with the soap actor, at least for a while, and the discussions with Cameron.
I've been recording "NCIS" just because of the "ooh! someone will die!" hype
(and because it's one of those shows that I like when I find an hour for it). Have to say that they're certainly playing the audience well, with the whole opening segment having a team member in jeopardy. It was also genuinely suspenseful. And I just like the way Mark Harmon plays Gibbs, especially his no-words-wasted style. ("Lose the skates," for example.) It's a solid show even when there's no plot gimmick brought into play.