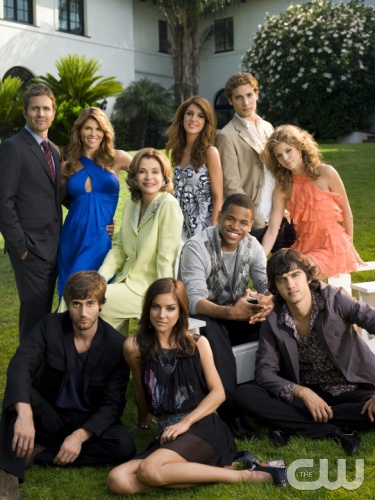 When I got through the first hour of the two-hour premiere, and I am amazed how much it did NOT stink. Actually enjoyed a lot of it. The second hour did not stink, either. But ...
by the end of the second hour, we were deeply into teen-soap land. I didn't hate it. And it was certainly better than was implied by The CW's refusal to make the premiere available for preview. (If it had done so, it might have gotten some respectable reviews, too.) But I don't know how long I will stay with this, especially with all of those seasons of classic "90210" still to get through.
Anyway, let's talk about what was good. I liked the extended blending of classic "90210" with the new show -- the visual nod to the old opening credits, "Silver" being Kelly's half-sister (from the old show's Silver-Taylor marriage), giving Harry Wilson (Rob Estes) a background in Beverly Hills, the reference to Brandon. [A later note: Until I read Sepinwall's blog after writing this, I completely missed the Hannah Zuckerman Vasquez moment.] Jennie Garth was OK, while Shannen Doherty was too little seen to pass judgment.
Even the line about "It's like 'Pretty Woman' only I'm not a whore" echoes in the old show. (Then again, it may have just echoed with me, since not long ago I watched the "Slumber Party" episode with Donna's "Pretty Woman" obsession.) I like that the adult characters have some things to do other than be an element of their children's lives -- although the revelation that Harry had a son he didn't know about was brought in and out as convenient, when you'd think it would have caused more tremors in his life. The Wilson kids (Shenae Grimes, Tristan Wilds) are pleasant enough -- although we know from "The Wire" that Wilds is capable of a lot more than this is requiring -- and Silver (Jessica Stroup) has style. Although it may just be that I'm admiring her "Reaper" pedigree.
And while I recognize that classic "90210" was representative of its time in TV, the pace can seem a little slow compared to modern-paced editing. New "90210" certainly moves quickly, almost jumpily; then again, it has less content time (and considerably more commercials) than its predecessor. Still, and other CW shows have felt this way, the narrative spaces between the commercials seem alarmingly short. That said, the new "90210" also seems to have glammed up considerably compared to the old one (where every hot night club looked like the same studio set inside, and I don't remember anything to compare to the HD lavishness of the background as Debbie Wilson talks by phone with Annie.
The first hour, at least, had some crackle in the dialogue, which I want to credit to "Veronica Mars's" Rob Thomas, who has a script credit. But now we get to the second hour, and the cumulative reaction.
Enh. I watched the first and second halves of this with several hours in between, so it can't be that I just wore down. I do think the second hour, where the love wheels started spinning among the teen characters, was not all that good. And I have to think that West Beverly would have at least one vice principal -- someone to handle any situations involving the Wilson kids. The sexual references, while offering a patina of sophistication (and, as I've noted, classic "90210" could drop some dirt in the dialogue), seemed unnecessary, designed only for shock value (oral sex in the car! one kid's dad makes porn!). Considering how gentle much of the show was, such moments were even more out of place.
I accept that the show must be populated with attractive young people (as the original show was). I worry, though, at how all the girls are model-thin -- their arms, uncovered, are all twigs. I like that we're not doing an Issue of the Week, but I'm not interested enough in, say, the pill-popping thief to want her story dragged out over a bunch of episodes.
That said, I AM curious about that promo with Kelly and her mom. ....