Lots of stuff rattling around. Some of it ...
David Gregory is now the official new moderator of "Meet the Press." (Release is here.)

I don't have any beef with Gregory but neither does this give me any big reason to tune in, unlike the prospect of Tim Russert going at a big politician, or (and here I am, showing my age) Lawrence Spivak on the hunt I was much more interested in seeing Gwen Ifill get the job.

Beverly Garland, a well-regarded character actress picture above, has died. (Alan K. Rode has a tribute to Garland, Forrest J Ackerman and Nina Foch, all now gone, over at his blog
As a viewer, my first memory of Garland was from her years on "My Three Sons," where she played the second wife of Steve Douglas (Fred MacMurray) the last few seasons. By then, "MTS" was pretty mechanical, low-key to a fault, but Garland brought some vigor to the screen and I paid more attention to her later in her career. I would also see her from time to time at Television Critics Association events, escorted by affable TV publicist Gene Walsh, and chatted with her at least once. She was a nice lady.
Flipping through my onscreen guide over the weekend, I saw that someone -- I think MGM HD -- was airing "Between the Lines" late at night. I DVR'ed it and looked at it again and, as a chronicle of idealism and newspapering, it holds up. (Alas, it does not appear to be available on DVD.) Directed by Joan Micklin Silver not long after she had broken through with "Hester Street," written by Fred Barron and David Helpern, it's an ensemble piece about the staff at a radical newspaper in Boston at the point when adulthood and commerce are starting to tear at their idealism.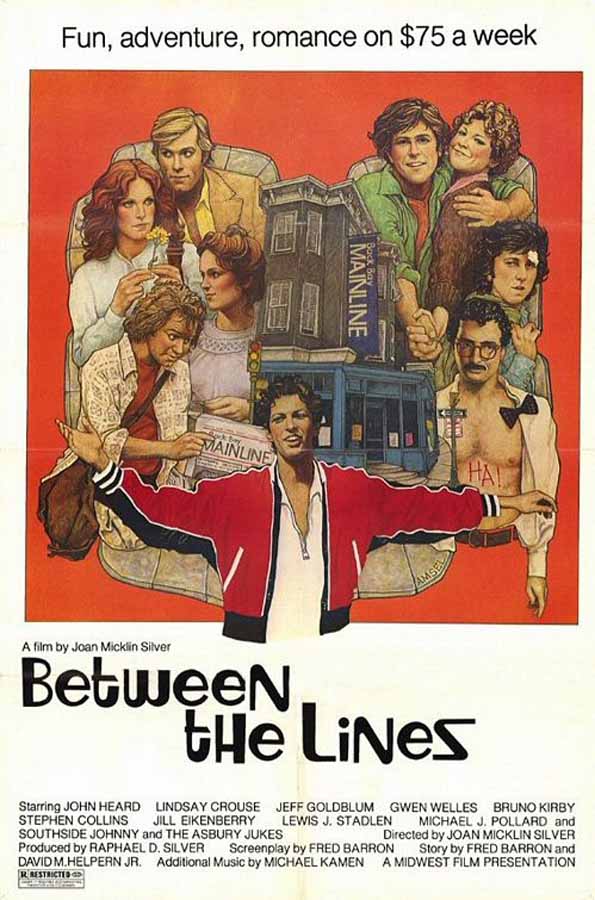 The main cast, all doing very well, includes John Heard, Stephen Collins, Lindsay Crouse, Jill Eikenberry, Jeff Goldblum, Bruno Kirby and Gwen Welles; Joe Morton also gets some screen time, Marilu Henner plays a stripper, Lane Smith gives a scary-impressive performance late in the film and National Lampoon founder Douglas Kenney is in a couple of scenes, as a guy named Doug Henkel. Plus music by Southside Johnny and the Asbury Jukes. (I also think the bartender looks a lot like the guy who played Grady Seasons in "The Color of Money" but can't be sure.) But it's the ideas that stick with me. It's one of those newspaper movies that, as much as it's part of its time, resonates in what's going on in the business today.
Could someone get Hugh Wilson back into writing and directing movies? I first knew Wilson's work from TV -- "WKRP in Cincinnati," the lovely but lost "Frank's Place," "The Famous Teddy Z" -- and would love to see anything he wanted to do for the small screen. But his movie resume has some excellent flourishes including "Rustler's Rhapsody" (the "confident heterosexual" dialogue!) and "Guarding Tess," which I fell into again while channel-flipping Sunday.
That's the film with Shirley MacLaine as a former First Lady and Nicolas Cage as the head of her Secret Service detail. The two don't get along at first, but things work out eventually, and both MacLaine and Cage give very good performances. The movie wanders a little, but it does so in service of its characters, and I usually end up staying with the movie once I've started watching. The hospital interrogation scene is a gem -- at once very dramatic and bizarrely funny, which kind of sums up Cage generally.