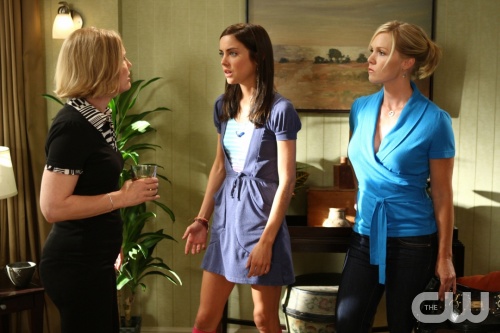 Sundry notes after the jump...
-- In case you have not seen it, here's the link for my Tyler Perry profile in today's Beacon Journal. I tried to focus on Perry the person, and wish I had had more time with him than the half-hour he spent with a group of us print reporters. He's a good interview, and he can be engaging. But between today's story and shorter, more locally focused piece I wrote on the day of the interview, I think people who don't know about Perry got some sense of him.
-- Some weird product placement -- if you want to call it that -- involving Coldplay on TV this week. On Tuesday's "90210" (more about that in a minute), Coldplay was held up as teen-awesome, or at least as a band that had status with Naomi. But on last night's "Bones," liking Coldplay was viewed as evidence that a man was gay. (Good, funny "Bones," by the way, especially in its dealings with Temperance's sex life. And nice to see Carla Gallo of the Judd Apatow Stock Company, especially since she connected with another John Francis Daley, also out of the JASC.
-- Getting back to this week's "90210" -- which I liked more than I expected when I finally watched it this morning -- you may want to revisit "Perfect Mom," the first-season episode of the original "Beverly Hills, 90210," to which "90210" Nouveau owes a great debt. The old episode had Brenda fascinated by Kelly's mom Jackie until she saw what a drugged-out mess Jackie was. The new episode had the Wilson parents trying to reconnect with their kids -- while the kids want to hang out with their West Beverly friends -- coupled with Silver's problems dealing with, you guessed it, Jackie. Played, by the way, by Ann Gillespie, the second and best remembered Jackie on the old "BH, 90210."
Both shows' storylines underscored the importance of a well-bonded family. On the old show, Kelly admired Cindy a great deal; even "Palm Springs Weekend," my most recently recapped old episode, found the kids receiving romantic advice from David's wise, loving grandparents. By the end of new "90210," the kids were bonding with their parents again.
After feeling blah at the end of the season premiere of the new "90210," I am sort of on the fence. Since I am going back and forth between old and new -- from "Palm Springs Weekend" to the new show to the "Fame Is Where You Find It" episode of old "BH, 90210," which I will be posting about later today -- the new one seems better on many levels.
The young actors -- at least, Tristan Wilds, Shenae Grimes and Jessica Stroup -- are really charming. The pace is pretty good, and the settings effective. (Lucky Strike Lanes, part of this week's episode, is a real, star-drawing place in Hollywood. It even has a dress code.) And I am fully engaged in the who's-the-daddy issue regarding Kelly's son (and increasingly subscribing to the theory that it's Steve).
But in other respects, the new show is not all that interesting, especially when it is engaged in the sort of dramatic recycling we saw this week.
Update: Ausiello reports on the future of Shannen and Jennie with the show.