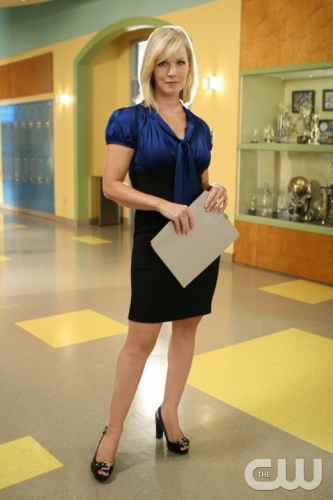 After the jump, "90210" (the baby daddy revealed), "Privileged," "The Closer" and "Californication, as well as some thoughts about sacks. ...
First of all, the best line of Tuesday night, from Megan on "Privileged": "I am a strong, positive sack."
It was one of those moments when "Privileged" hit the balance it is going for between light, rather clever comedy and somewhat melodramatic soap. It works better at the latter, but keeps shoehorning in the former even when it doesn't seem to make sense. (The Megan/Laurel dynamic seems especially weak.) After two episodes, I keep thinking the show is finding its way toward something good -- Rose is a fun character -- but it's not there yet.
But one of the curious things about "Privileged" is that all the characters are well-meaning. Even bitchy sister Sage has an agenda with positive elements. And the same thing applies to "90210," where now Naomi has gone from the b side to the sympathetic one. (And she and Silver have made up.) While the promo for next week indicated that tears and misery may be caused by one of the supporting players, the interaction among the main teens is flawed by the lack of real tension.
And yes, if you have been playing along at home, you know that on the old "90210" the main characters had decent streaks. But did not behave that way consistently. Steve, as I said, could be a jerk, Kelly had a major bitch streak, Brandon was famously self-righteous -- and that's all just in the first season. New "90210" is becoming deliberately, dangerously bland; the scene where Dixon struggles to pay for the damage to a car, then ends up getting invited to a Laker game for his trouble, is a summarizing moment. Things may get bad, but they won't get that bad.
Not that I hate everything. Dixon's little spiel about being an African-American kid in a white family was a good touch -- unless, that is, it turns out to be the last time race is mentioned on the show. And I am irresistibly drawn to the Kelly/Brenda parts of the show. While I am disappointed that Dylan is the father of Kelly's son (since I was primed for it to be Steve), it was nice to root the show still more in its history. The Donna reference was another example. But even with the older characters, the show is flawed. Hey, you've got Jessica Walter! So much more could have been done with her directing the school musical (which, as far as I can tell, consists of one song done over and over). (Update: OK, so it's a real Broadway show -- which, by the way, EW.com notes is not currently licensed for HS productions. "90210" is still killing me with that one song.)
And as long as I'm updating and talking EW.com, it's reporting that someone is trying to get the main actresses to eat. There have been a lot of comments about the way the girls look -- mine, reviewing the premiere, was" "I worry, though, at how all the girls are model-thin — their arms, uncovered, are all twigs." It would be nice if actions really is taken.
Finally caught the season finale of "The Closer" from Monday. Good drama, and I like that the unit did not entirely save the day; people still got shot, things still got blown up. I'm neither here nor there on the Sanchez cliffhanger. So many people end up dead or nearly dead in shows these days that it's beginning to lose impact. Although the shooting did set up that great line: "You ran!"
I admit that I have looked at some new episodes of "Californication" out of curiosity over whether there was a life/art intersection in recovering sex addict David Duchovny playing a character who was not nearly recovering in the first season. Wanted to see if the behavior carried over to the second season. Apparently not. Hank Moody, Duchovny's character, is not only trying out fidelity, he's almost noble in the third episode. Well, noble in the context of big anger issues and a show that is sordid overall.